Bolivia was my first experience of South America where I enjoyed three months of Spanish lessons, a homestay, volunteering and exploring the country. It remains one of my most memorable travel experiences to this day.
Bolivia is a thought-provoking and unique country, with friendly locals who will share a smile with you despite the daily hardships they endure in the poorest country in South America.
Time permitted, don't leave Bolivia without experiencing the following highlights of this fascinating country:
1. Learn Spanish
Being able to speak the local language not only simplifies the logistical aspects of travelling through Bolivia but it enhances local interaction opportunities. Whether you need a few days to brush up on a language you haven't used for a while or as in my case, a month to learn your first foreign language, the university town of Sucre is a popular destination for travellers who want to unpack their rucksack. Many of the Spanish schools offer homestays which provide a great opportunity for travellers to immerse themselves into the local culture and extra activities such as salsa lessons, cooking classes and volleyball are a helpful way to meet other travellers.
If your aptitude for learning languages is as poor as mine, remember three key things:
Locals appreciate the effort you are making and the attempt to have a conversation with broken and grammatically incorrect Spanish can be a great source of entertainment for both parties
There is a direct correlation between the amount of alcohol you drink and your ability to speak Spanish to the locals
When all else fails, charades is still a universally recognised form of communication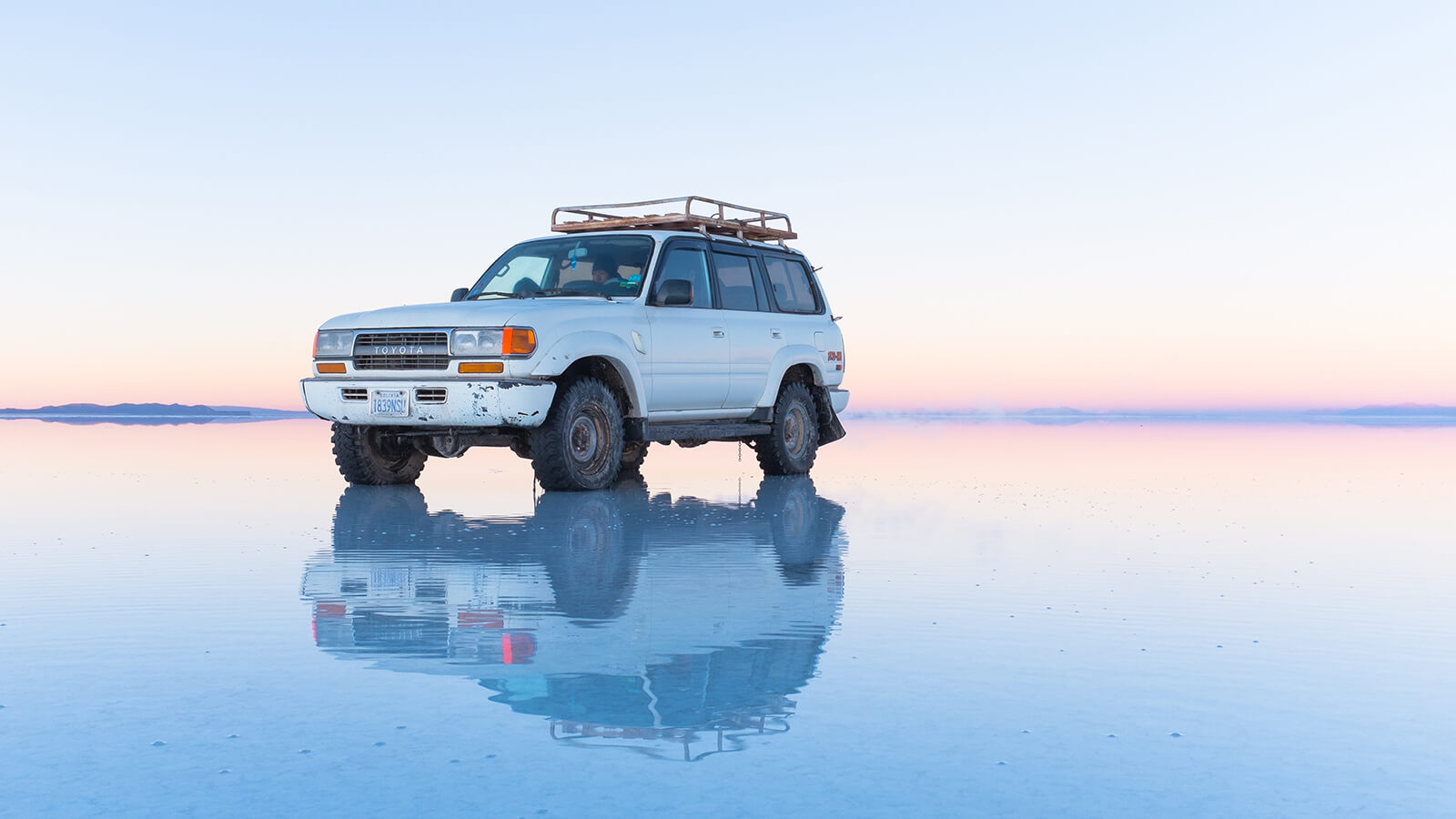 Salar de Uyuni is the world's largest salt flat
2. Create an Optical Illusion on the Salt Flats
The Salar de Uyuni is Bolivia's number one attraction and the world's largest salt flat provides the opportunity for endless photographic fun. The 12,000 square kilometre area is so flat and extensive that there is no sense of depth, creating an optical illusion that is every traveller's 'must take' photo of Bolivia. As you approach the salt flat all objects surrounding you become potential props for your photo – shoes, guidebooks, bottles, corkscrews, body parts – anything!
  Looking for more unique and offbeat destinations/activities?     Offbeat Travel Guides
3. Buy a Stick of Dynamite
Potosi is one of the highest towns in the world with an altitude of more than 4,000 metres and is dominated by the Cerro Rico Mountain, from which mined silver once made Potosi one of the biggest cities in the Americas. To better understand Potosi's turbulent past head underground on a mine tour.
All tours start at the Miners Market, where you will be kitted out for your visit underground and purchase gifts for the miners from a grid of shops selling dynamite, clothing, equipment, coca leaves and food and drink.
Visiting the mine itself can create conflicting emotions as igniting a stick of dynamite before heading underground provides a distraction from the tragic reality that is Potosi. The mines are haunted by thousands of mine-related deaths, and even in today's modern world manual processes, outdated equipment and toxic gases contribute to a miner's life expectancy of just 35 years. It's a sad reality when miners choose an almost guaranteed short life to support their families.
Before your claustrophobia takes over you, take a moment to turn off your headlamp and discover the true meaning of darkness!


La Paz, the capital of Bolivia and highest capital city in the world
4. Find Your Altitude Limit
Not only is it difficult to avoid the high altitude in Bolivia it's also difficult to predict the impact it will have on you. Altitude sickness doesn't discriminate. I came across young, fit and healthy athletes who could not continue hikes they would normally complete with ease and watched overweight smokers effortlessly run past.
On my first day in Bolivia, I left my hotel for a short walk in La Paz. Within one block I was short of breath, embarrassed at what I thought was an incredibly bad fitness level. Despite living in Sucre for two months, I still struggled on a bike ride one weekend, and had splitting headaches when I reached 5,000 metres on the trip from Tupiza to Uyuni.
The altitude is what makes Bolivia unique, combatting it is an integral part of being there and it's like the weather in the UK – it's always a great conversation starter!
5. Give Something Back
Taking the time to volunteer in Bolivia is a great way to give something back to the local community you are visiting, better understand the local culture, improve your Spanish skills and make local friends. But be warned – you may experience a range of conflicting emotions. I spent a month volunteering at a day care centre in a small village near Sucre. It was my first volunteer experience and one of the most heart-warming, heart-breaking, thought-provoking, rewarding and disturbing months of my life.
The merit of volunteering in developing countries is a topic that is always guaranteed to create heated debates amongst travellers. Are the genuine good intentions of travellers doing more harm than good? Is the money donated to the organisation actually being used by the organisation? Are volunteers taking away jobs from locals? My side on this debate continues to flip back and forth with the more I learn and from my own personal experiences.
Of all the emotions I felt whilst volunteering in Bolivia, rewarding was the strongest and I hope that providing an extra pair of hands to three over-worked and exhausted carers made my presence a help more than a burden for them.
Volunteering in Bolivia can be rewarding for both sides. Just keep your eyes and mind open...
  flickr // davidalmeida jancbeck