Let's Get The Basics Out Of The Way First
Tokyo (東京) is one of the 47 prefectures of Japan and ilocated on the eastern side of the biggest of Japan's 3,000 islands, Honshu. Home to 36.9 million people, it is not only the most populous city in the world but also the seat of the Japanese government and the Imperial Palace, as well as the home of the Japanese Imperial Family. This great city is comprised of 23 special wards, each of which governs itself. One of those wards is Shibuya, the inspiration and namesake of my original site, Shibuya Daze, which would eventually become the HoliDaze.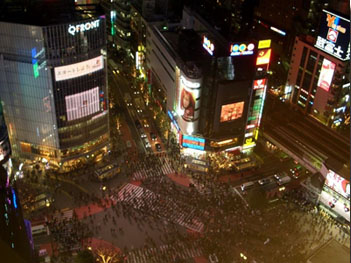 The famous (and busy) Shibuya Crossing
Each of those wards are in turn divided into separate districts, many having a dozen or more. But the Shibuya ward, the one I chose to call home for a couple months, is the only one that also includes a district of the same name. I found that normally when there is talk of Shibuya, it is usually referring to this particular district and not the ward as a whole. It is one of the busiest of the districts, crammed full with people, stores, restaurants, markets, hotels, arcades, even soccer fields atop at 20- and 30-story skyscrapers.
Not only is Shibuya one of Tokyo's most colorful and busy districts, but the ward as a whole is also birthplace to many of Japan's fashion and entertainment trends. Most of the area's large department and fashion stores belong to either Tokyu or Seibu, two competing corporations. In addition there is also a very prominent nightlife in Shibuya, yet another factor in making this the most popular area of Tokyo among the younger generations.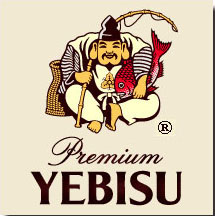 Japan's oldest and finest beer
The other primary districts of Shibuya are Daikanyama, Ebisu, Harajuku, Hiroo, Higashi, Omotesando, Sendagaya, and Yoyogi. Ebisu (pronounced 'yebisu'), the area where I had my flat back in 2008-09, is proudly referred to as "the area Tokyo locals love to live." It is conveniently located next to Shibuya and was — believe it or not — founded and developed around the Japan Beer Brewery. Yebisu Beer, introduced in 1890, has long been a local favorite. There is even a famous beer brewery and museum and tasting bar you can visit. I did. Fun stuff.
Ebisu is also home to many quirky restaurants and bars, but without the late night intensity and noise of Shibuya; in other words, it is perfect to come home to. Top it off with trendy neighboring communities like Daikanyama and Hiroo, which offer high-class boutiques, vintage stores and hip patisseries all within easy walking distance from Ebisu station. And there is also Yoyogi, home to one of the largest parks in all of Tokyo, Yoyogi Park.

Image Credit: Wikipedia
More On The 23 Wards Of Tokyo
The special wards (特別区, tokubetsu-ku) are 23 municipalities that together make up the core and the most populous part of Tokyo, Japan. They vary greatly in both area (from 10 to 60 km²) and population (from 800k) plus some are expanding as artificial islands are built. Setagaya has the most people, while neighboring Ota has the largest area. For the full list of wards and districts, see below.
Eventually, as I catch up on my writing I hope cover a good chunk of these areas.
| | | |
| --- | --- | --- |
| The Wards | Kanji | The Districts |
| Adachi | 足立区 | Ayase, Kitasenju, Takenotsuka |
| Arakawa | 荒川区 | Arakawa, Machiya, Minamisenju, Nippori |
| Bunkyō | 文京区 | Hakusan, Hongo, Yayoi |
| Chiyoda | 千代田区 | Akihabara, Iidabashi, Kasumigaseki, Marunouchi, Nagatachō, Ōtemachi, Yūrakuchō |
| Chūō | 中央区 | Ginza, Hatchōbori, Kachidoki, Kayabachō, Nihonbashi, Shinkawa, Tsukiji, Tsukishima, Tsukuda |
| Edogawa | 江戸川区 | Kasai, Koiwa |
| Itabashi | 板橋区 | Itabashi, Takashimadaira |
| Katsushika | 葛飾区 | Aoto, Tateishi |
| Kita | 北区 | Akabane, Ōji, Tabata |
| Kōtō | 江東区 | Aomi, Ariake, Etchūjima, Fukagawa, Kameido, Kiba, Kiyosumi, Monzennakachō, Shirakawa, Sunamachi, Tōyōchō |
| Meguro | 目黒区 | Jiyugaoka, Meguro, Nakameguro |
| Minato | 港区 | Aoyama, Akasaka, Azabu, Hamamatsuchō, Odaiba, Roppongi, Shinbashi, Shinagawa, Tamachi, Toranomon |
| Nakano | 中野区 | Nakano |
| Nerima | 練馬区 | Hikarigaoka, Nerima, Ōizumi |
| Ōta | 大田区 | Den-en-chōfu, Haneda, Kamata, Ōmori |
| Setagaya | 世田谷区 | Karasuyama, Kinuta, Kitazawa, Setagaya, Tamagawa |
| Shibuya | 渋谷区 | Daikanyama, Ebisu, Harajuku, Higashi, Hiroo, Sendagaya, Shibuya, Yoyogi |
| Shinagawa | 品川区 | Gotanda, Osaki, Shinagawa |
| Shinjuku | 新宿区 | Ichigaya, Kagurazaka, Ōkubo, Shinjuku, Takadanobaba |
| Suginami | 杉並区 | Asagaya, Kōenji, Ogikubo |
| Sumida | 墨田区 | Kinshichō, Morishita, Ryōgoku |
| Toshima | 豊島区 | Ikebukuro, Komagome, Senkawa, Sugamo |
| Taitō | 台東区 | Asakusa, Ueno |
Each District Is Distinctly Unique
Despite all being part of the metropolis that is Tokyo, the districts here are more akin to a couple hundred small, separate, and unique towns squeezed right next to each other. Each one comes with its own distinct atmosphere and feel in style, shopping, and businesses. Many vary greatly from their surrounding neighbors and have evolved into areas specifically known for one or two things.
One of the most internationally well-known districts is Harajuku, the fashion capital of the world. If you are a sumo fan, Ryōgoku is the district you should visit. Electronics more your thing? Visit Akihabara, the hotspot for electronics, computer, anime, and otaku goods. For international business, Shinjuku is the place to be. And the tourist district? That is Roppongi, probably the only district in Tokyo where you need to watch your wallet/purse.
Yes, the wealth and diversity offered throughout these districts is unparalleled anywhere else in the word. I spent countless hours exploring the city and trust me the joy found in wandering these streets never ceases. The variety does however make it important to do a little research when deciding on where to stay. My choice was Ebisu, home to an abundance of sophisticated upscale bars, nightclubs, and restaurants. This area has the kind of quality nightlife preferred by the 30-something crowds. It was also only a quick five-minute walk to Shibuya, the major local party scene of the 20-something crowd and stocked full of huge clubs, love hotels, and all night eateries.
  Have you ever visited Tokyo before? Which distrcit was your favorite and why?