After experiencing fresh, truly authentic Japanese food, you will never be able go back to eating the bastardized version of it at most restaurants outside of Japan.
I am really going to miss the food here more than anything. It does not even compare to the sushi back home, way different and so much better. The majority of the sushi you find in America is presented in customized into a variety of different sushi rolls, which of course are further garnished with Americanized additions like guacamole and cream cheese. In all actuality I was very surprised to not seen a single long sushi roll here like you would find at any sushi restaurant back stateside. 90% of sushi here in Tokyo is just a two-inch section of rich with a huge piece of raw fish on top, nothing else, that's it. You flip it upside down so that the rice is on top of the fish, dip the fish in soy sauce, and then enjoy.
  Proper soy sauce etiquette is key. Only a tiny bit is needed to enhance sushi. Excessive use, for example soaking, is very disrespectful to the chef as it implies that the original flavors were no good and had to be overpowered.
There are a couple individual rolls that I have found here, but they are always made one at a time and wrapped in seaweed. Inside you will find a little bit of rice and some raw fish — that's it, no other garnishment of any type. Very, very, very different from American sushi, which has all that mayonnaise and avocado and all sorts of other over-the-top additions and are rolled up into 10- and 12-slice rolls. But wow it is so much better! And better for you too.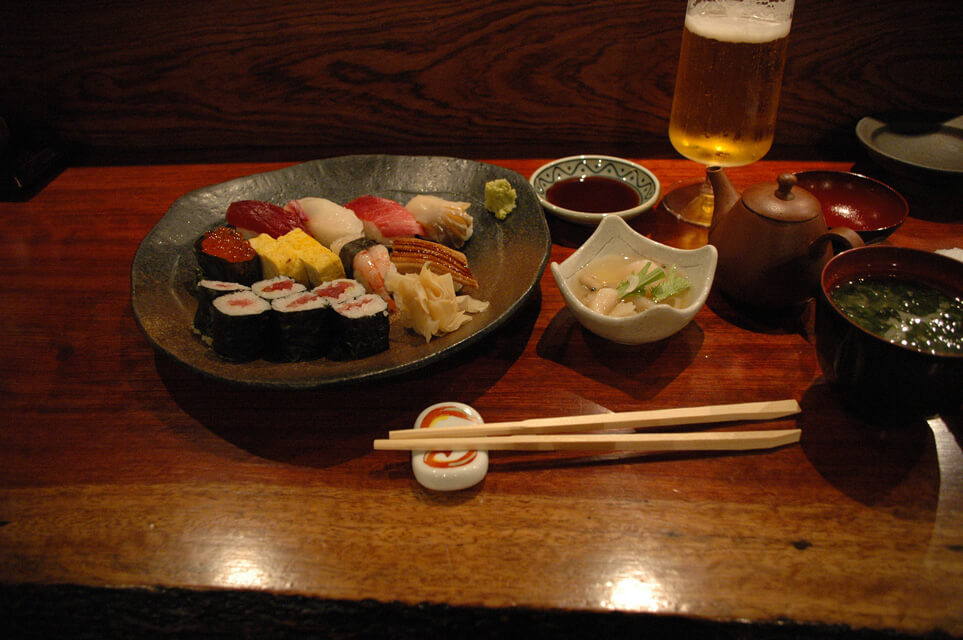 And then there are things you will never find in the States, like a giant bowl of squid soup. It is brought out and everyone at the table eats from it. Its just straight sliced squid and squid rings in a simmering brown sauce. But this sauce they boil it in is somehow even better than the squid itself! Mmmmm so amazing, I love it all! Well, except the octopus. The tentacles are no problem, we ate a bunch of squid with plenty of tentacles, but the suckers on the octopus are what get you. Just the texture of them... Wow I get chills just thinking about it. Once was enough. Never again.
  WASABI 101   Real wasabi only grows along stream beds in the mountain river valleys of Japan, no where else on Earth, is very difficult to cultivate and therefore also very expensive, up to $100/lb. As a result it can be an arduous task to locate real wasabi outside of Japan. In America your only hope would be to try the high-end specialty grocers. However, just because the package says it is real wasabi that does not mean a thing, so be smart!. Import companies as well as restaurants in the United States use a combination of horseradish, mustard, starch and green food coloring to create the "wanna-sabi" which you thought you had been eating all of these years. Although there is a slight taste similarity between the real and fake, it is remarkably easy to tell the difference. If you ever had real wasabi, you could spot the fake stuff immediately.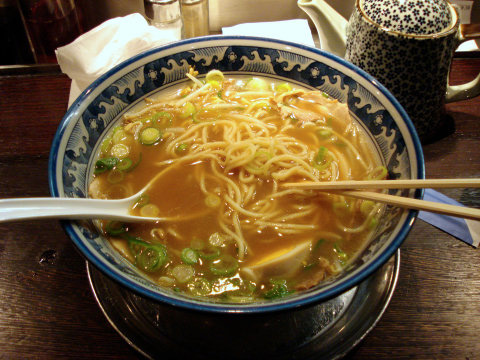 Equally tantalizing was the ramen here; it is in a whole different league than what normal Americans would consider "ramen." That shit they call ramen in the grocery stores back home would not be fit for someone's dog here in Japan. Even the gas station ramen is light-years ahead Maruchan Ramen. Plus then they have all sorts of ramen houses, some where you can actually see the noodles being made and others where you pay a vending machine and have your bowl slide out a window. Mmmm fantastic, every single one of them! And as we found, going out for ramen is a common 4am after-club pastime.
Moving on, there is also something called yakisoba that I had never heard of before. Turns out it was originally a Chinese recipe but has since become highly integrated into Japanese culture. Yakisoba is kind of like ramen, a bowl of wheat-based noodles combined with li'l chunks of pork, carrots, cabbage, onions, salt, pepper, and — of course — yakisoba sauce. These Yakisoba shops are located all over.
Oh and don't even get me started on the miso soup, something seemingly that simple is on a-whole-nother level here in Japan than as that in America — it's superb! I am bringing back make-at-home ramen kits from this local grocery store that Mayu took me too. We got all sorts of stuff there, authentic sauces and spices, stuff I've never even seen or heard of coming here. Mmmmm...
  Bad News America: The Japanese Have Made A Better Cheeseburger Than Us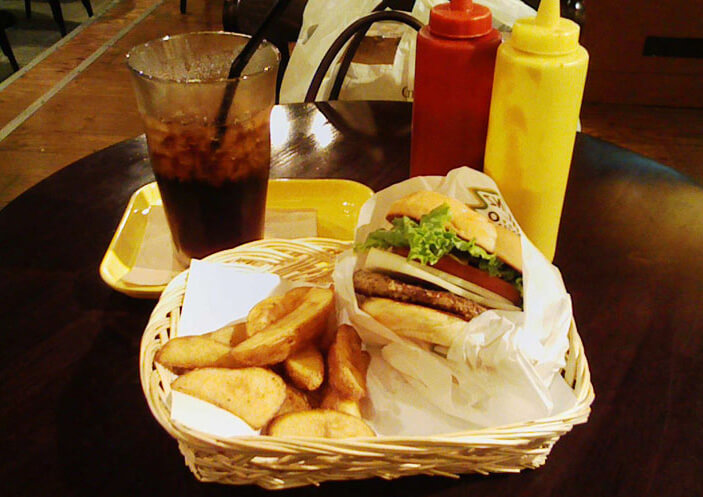 Hands-down the most amazing cheeseburger I have ever tasted! Seriously, better than any Stateside burger I've found, even $15 Kobe burgers and other expensive exotics.
I know this will sound bad but folks do you realize that one Japanese restaurant — chain restaurant, at that — has even managed to make a better burger than us? I was shocked myself, as were my tastebuds. I mean the burger is an American claim-to-fame, along with ribs and BBQ. I know, I know, what I am saying may be a little hard to swallow for some of you, but just ask Jared and he will back me up, he experienced it too.
Anyone who knows me well knows that I love food. While I've worked up to a more refined pallet now, I have definitely eaten plenty of shit in the past (I won't even try and sugarcoat it). Along the way I have tried burgers from nearly every state in the US, whether fast food chain (gag), little mom-and-pop-type shops like Burger Tex or Dan's, full-fledged restaurants like Red Robin or Mighty Fine or Carls Jr, and even chef-acclaimed five-star restaurants such as Perry's Steakhouse. Yet regretfully none of them can hold a candle to Freshness Burger, which is actually not one local restaurant but a fairly popular chain here in Japan. Last count puts it at 189 locations in this country and 20 in South Korea. However I highly suspect that the business was started by an American, partially due to the décor and music but also because deep down inside part of me still believes that whoever created this magical burger absolutely has to be American. Regardless, this restaurant chains appears to be doing well and their burgers seem equally loved among the local Japanese people as well!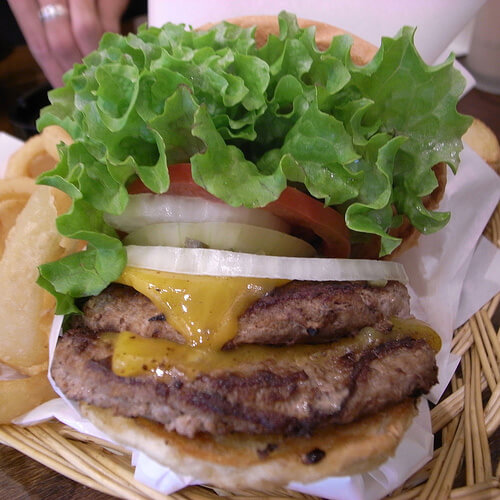 My custom double-patty double-cheese Freshness Burger...mmmmm
Let me tell you, they make a mean cheeseburger. For two or three hours after your meal the taste continues to linger ever so tantalizingly in your mouth and if you are lucky and manage to burp — hehehe — well it is absolutely fantastic, like eating a second burger without the calories! Jared and I accidentally stumbled upon a Freshness Burger one day in Shibuya and from then it was on. Although I mostly ate nothing but local Japanese cuisine, once every few weeks I would eat anything not fish and not Japanese. Most of the time it was Freshness Burger. Even when it was all said and done, on my very last afternoon in Tokyo with Mayu, she and I stopped by a Freshness Burger on the way to the express train to the airport.
Freshness Burger is so far the ONLY fast food establishments that I have ever had the pleasure of eating at where the food comes to you looking exactly as it does in the picture. Yes, amazing isn't it? It is almost too good to be true, both look-wise and taste-wise, and OH how it just melts in the mouth. Apparently from what I have found the hamburger patties at all the Freshness Burgers are made from Kobe beef. McDonald's, on the other hand, uses pork exported from the US* Thanks to all our hormones and genetic engineering, the rest of the world does not want our meat. Only US restaurant chains located on foreign soil import our meat.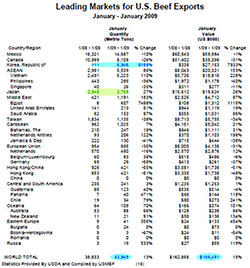 * If you know anything about USA exports and/or USA meat, you should know that American meat is unpopular around the world, even straight-out renounced in Europe. Yes, the exact same "food" many Americans eat daily. Mexico imports more than anywhere else, and when combined with Canada, the number two importer, their combined total accounts for roughly 2/3rd's of all US meat exports worldwide. Hell, in Jan 2009 the US exported worldwide only $180,000 worth of meat. By comparison, that's the amount your local grocery store goes through in less than a month! All US meat imported to Japan is solely for use by McDonald's corp and other American chains. I suspect as much is true in most of these other countries on the list — except for Mexico and Canada obviously. It's due to our hormone-overloaded genetically modified food system currently in place that the rest of the world prefers meat from elsewhere...as do I.
Anyway, I am getting distracted. The point is this: anyone who knows me will tell you that I do not eat seafood, I can't even stand the smell of simple things like shrimp. But for some reason, Japanese seafood is different. I love it all! Even stuff you would never in a million years see me eat, like squid soup and several other things that I would actually prefer not to know what they were, well I did it all while in Japan. Any and all Japanese seafood in America has been Americanized, no matter how authentic they try to portray it, trust me. But regardless of what you like, you can find something appealing here in Japan.
  Have you experienced true Japanese cuisine? What about it surprised or impressed you the most? How did it differ from Japanese food back home? Share your thoughts below!