It's More Fun In The Philippines
Let's get the basics out of the way first, for those of you new to the region (for the rest of you, just skip down two paragraphs). The Philippines is the world's 12th most populous nation, with a population of over 90 million as of 2008. An estimated figure of half of the population resides on the island of Luzon. Manila, the capital city, is the eleventh most populous metropolitan area in the world. Life expectancy is 71.23 years, with 73.6 years for females, and 69.8 years for males. Population growth rate between 1995 to 2000 was 3.21% but has decreased to an estimated 1.95% for the 2005 to 2010 period.
All together a combined 7,107 islands make up the Philippines. The country is divided into three island groups: Luzon, Visayas, and Mindanao. These are divided into 17 regions, 80 provinces, 120 cities, 1,511 municipalities, and 42,008 barangays. A barangay is the smallest administrative division in the Philippines and is the native Filipino term for a village.
Relaxing... Filipino Style...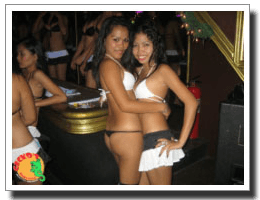 My final destination in the Philippines is always Subic and the neighboring Olongapo City. I used to fly in through the capital, Manila, which is not the most convenient thing as it then requires renting an "aircon van" for the four-hour drive to Subic Bay. Not only that, but Ninoy Aquino International Airport is old and lacking in all the modern conveniences you would find at other airports worldwide. However, there is also a new and still expanding airport in Angeles City, Diosdado Macapagal International Airport, which I use now.
DMIA was formerly known as Clark International Airport, having been expanded from the original Clark Air Base, which was closed and relinquished by the US Air Force in 1991. Not only is DMIA closer to Subic, but it is also located in Angeles City, the place to go to have fun. While in Subic women will flock to you 10-deep, but in AC the ladies will surround you 100-deep easy.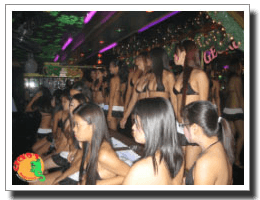 Yep, Angeles City -- the City of Friendship -- is truly a paradise for anyone with a love of fine Asian women. Trying to enjoy the night out and the local ladies while in Manila can sometimes get you into trouble with the law, but in AC you have nothing to worry about. Its slogan is "the city of friendship" and is the hub of the Southeast Asia sex trade, where prostitution is not just a lucrative business but a dominate industry.
The infamous nightlife scene in Angeles originally sprung up to service nearby Clark Air Force Base. The US military left in 1991 after nearby Mt. Pinatubo erupted, but a crackdown on prostitution in Manila promptly restored the industry's fortunes, and today Angeles has the biggest nightlife scene in the Philippines.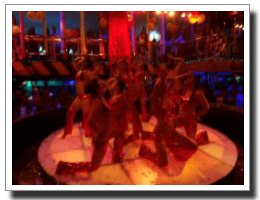 Balibago district is home to many bars and karaoke joints. It has of a number of clubs which fit any budget and personality. There are traditional clubs with DJ's and the live band clubs. For endless evening of dancing and pulsating music, head for the bright lights of Balibago. Fields Avenue and McArthur Highway are the places to head for go-go bars, comedy bar shows, sing-along or karaoke bars, nightclubs and drinking beer - it is a non-stop pleasure seven days a week, every week of the year!
But don't get me wrong, despite the pictures, it is not all about women in Angeles City (just mostly). Besides having a booming nightlife, the city is becoming increasingly popular as a tourist destination, particularly for visitors from South Korea. Its center, Balibago, is especially known for its fine restaurants, hotels and shopping malls. Within Balibago is neon-lit Fields Avenue, known for its bars, nightclubs and what may be one of the world's largest concentration of go-go bars. Adjoining Clark Freeport Zone is the site of world-class resorts, casinos, duty-free shops and beautifully landscaped golf courses. The city, and the rest of the Pampanga region, is known both as the "Entertainment Capital of Central Luzon" as well as the "Culinary Center of the Philippines."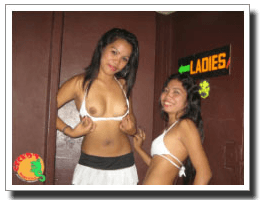 Subic Bay, which collectively refers to Subic, Barrio Barretto, and Olongapo City, is much more tame than Angeles City, although the underlying sex trade is still obvious. At any resort you stay at, come sunrise you will always see a couple girls come down from the rooms upstairs and quietly make their way out. Hell, that is how I got busted -- my ex-girlfriend works at the resort I stay at, Mango's. That's why I fly in AC first now, ha ha ha.
Subic has plenty of touristy things to do during the day, such as parasail, trek the jungle, visit Ocean Adventures, fly over the volcano, or even just shop the markets in Olongapo. But once the sun sets, the discos, the go-gos, and the bars all come alive. There are plenty of good places, such as Down Under, The Hot Zone, Harley's, Doc's, Baby One Bar, Broadway, etc -- the list goes on and on.
All the resorts in Subic border the water, either beside Mango's on National Hwy or just past it, on Baloy Beach Rd. All of the nightclubs are scattered just blocks away, along the opposite of National Hwy or scattered down the side streets. Everything is within walking distance, but there are always jeepneys and trikes available for transportation as well, just as in any other city in the Philippines.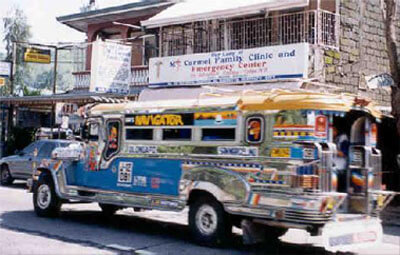 The iconic Filipino jeepney -- no two are painted the same
The jeepneys (essentially small buses) were originally made from discarded American military jeeps after World War II, although newer ones have been manufactured since which still resemble the original jeepneys. They are color-coded depending on the route they follow and are most certainly the most affordable way to get around downtown. They run available 24 hours a day and it is the most famous mode of transportation throughout the country. Since jeepneys tend to be overcrowded with passengers, tourists carrying bulky luggage should consider traveling by taxi (as the joke goes, "How many people can you fit on a jeepney?" Answer: "One more!").
Trikes (often spelled 'tryks' by the locals) are nothing more than a basic four-speed motorcycle with a one-wheeled cart attached to the side to carry passengers, much like European sidecars. The trikes are slightly more expensive, but provide you with a more peaceful ride instead of being packed in 20-deep on a small jeepney. Like the jeepneys, there are also trike drivers operating 24 hrs a day. In addition, the trikes will take you anywhere, door-to-door, unlike the jeepneys, which must stick to a straight route, just like a bus. In those terms, consider a trike a taxi. Although they do have "aircon" taxis and vans in the bigger cities, they are expensive and charge by the kilometer.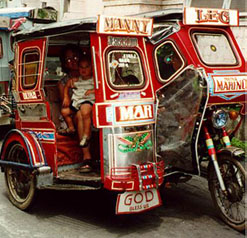 Always a quick but very bumpy ride
All in all, while there is plenty of ways to kill time and enjoy yourself in both Subic and Angeles, but it is undoubtedly the nightlife that takes the gold, always. Part of the problem lies with the fact that the only foreigners that live in the Philippines are almost exclusively ex-military, primarily American but also many Australians. Each and every one of them owns their own bar or disco, always stocked with some go-go girls. The women over there are used to having these countless older men around, and it is fairly common for a 60-yr-old American to marry a 25-yr-old Filipina. As the navy base at Subic is no longer active, they do not see the younger men like they used to. That was another reason why my repeated trips while only in my early 20s have caught the attention of all the girls there.
Take for example Hope In Heaven, a recently released documentary about a girl named Mila who "dances" at the Heaven Bar in Angeles City. Despite hating what she does, she is a working girl who dreams of an American guy one day finding her and rescuing her from her terrible life. That summarizes the dream of essentially every girl in the Philippines, and while not every girl will decide to follow Mila's path and whore themselves out as a working girl, quite a few do.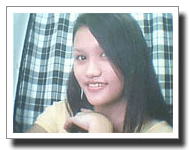 My ex-girlfriend is a born-and-raised Filipina and she had some of the same dreams. Although she was one of the good girls, one of the "cherry girls" as they call them over there, and worked legitimately at a resort in addition to going to college. That used to put a lot of pressure on me, because in her eyes I was "her prince," a role I don't think I ever really lived up to. But in the end, it was not meant to be and we have since gone separate ways. Not a day goes by that I don't think about her though. She is the one that got away, the only girl I have ever truly loved. Anyway...
In closing, because a few of my friends question how I can put up with all these older men taking advantage of these girls, let me first say I never expected to. The very first time Jared and I went to the Philippines, we did not like it. It was poor, dirty, and in coming from Tokyo, we just did not feel like there was that much to do. As a matter-of-fact, when departing from Manila the first time, we both swore we would never return to the Philippines. How wrong we were.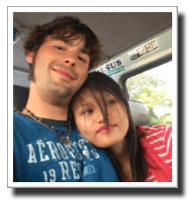 It was definitely because of my talking with Claire that I have been returning to the Philippines -- we had traded email addresses the last day of my original trip there. However, upon returning to the Phils I came to accept and even appreciate their way of life. That and I have become friends with many of the ex-military guys there, which I am sure subtly influenced my thinking. As they put it, these working girls are almost always sending money back to their home province, to help out their families, so you are really just helping the poor (call it donating to charity if you want) by spending the night with one of these ladies. Besides, the girls don't seem like whores, although to quite a few of you I am sure that will make absolutely no sense. It has to do with the Filipino culture, and the way a Filipina woman puts the happiness of her man in front of everything else, even herself. So when you do take one of these girls home, you feel more like you just met some girl downtown and are taking her home, not like you are paying for a hooker.
Be that as it may, I am not a cheater and was not about to cheat on the love of my life, even after learning that all the working girls are tested regularly and will get a pass signifying their clean health that allows them to work that night. So, your chances of taking an extra souvenir home to the missus are somewhat diminished. Additionally, if you are at one of the go-go bars and see one of the usual girls standing off to the side, not working that night...well you know her test came up positive and she is sitting her time out, taking her meds.
But despite all of this, make no mistakes: prostitution is illegal in the Philippines.
Statistics
  (2008 numbers, no 2009 yet)
Philippines
United States
Area > Land
298,170 sq km
[69th of 238]
9,161,923 sq km
[3rd of 238]
Population Total
96,061,680 residents
[13th of 242]
303,824,640 residents
[3rd of 242]
Population Density
266.11 ppl per sqkm
[42nd of 256]
29.77 ppl per sqkm
[168th of 256]
Largest City Population
Manila - 9,286,000
[12th of 174]
New York City - 16,332,000
[4th of 174]
Population Below Poverty Line
30%
[27th of 46]
12%
[40th of 46]
Gross National Income
$80,844,900,000.00
[36th of 172]
$9,780,000,000,000.00
[1st of 172]
Exports
$49,320,000,000.00
[49th of 189]
$1,148,000,000,000.00
[4th of 189]
Economic Importance
0.1
[ UNLISTED ]
197.9
[1st of 25]
Comparative Price Levels
14
[ UNLISTED ]
109
[7th of 30]
Technological Achievement
0.3
[41st of 68]
0.73
[2nd of 68]
Cannabis Use
1.94%
[104th of 126]
12.3%
[3rd of 126]
  »

New Zealand comes in 1st with 22.23% and Australia 2nd with 17.93%

Oil > Consumption
340,100 bbl/day
[19th of 212]
20,680,000 bbl/day
[1st of 212]
McDonald's Restaurants
235 locations
[13th of 39]
12,804 locations
[1st of 39]
Tsunami > Foreign Tourists Missing
1
[37th of 37]
456
[6th of 37]
Prisoners > Per Capita
94 per 100,000 ppl
[96th of 164]
715 per 100,000 ppl
[1st of 164]
Suicide Rates
26.7 per 100,000 ppl
[7th of 17]
13.3 per 100,000 ppl
[13th of 17]
Numbers pulled from NationMaster
Places To Visit In The Philippines
I may have limited my excursions to the Philippines to the main island, but there are many other beautiful places to go visit all throughout the country, some more touristy than others. If you want to get a taste of the real Philippines, check out Olongapo, a great little town with an active nightlife and occasional shows or festivals at Pier One or the Freeport Zone. If you are looking for working girls, go to Angeles City. But, whatever you do, spend as little time as possible in Manila. Trust me on this one.