You Might Be, Depending On Your Answers To These Questions...
But no worries, even if you are addicted to traveling, there is plenty of help out there for you. No, I'm not talking about rehab. That wouldn't work anyway because the tricky thing about a travel addiction is the only cure is the very same thing that is causing the addiction: more traveling.
Yes my friends, there are many of us. Some pride themselves for being backpackers or expert budget travelers, others describe themselves as vagabonds, feel they are suffering from wanderlust or start off lured in by the thought of a simple gap year. Many are finally breaking free after having raised children, with or without their spouse, and still others are mere kids being raised in a nomadic family. Yes, travel is all-encompassing.
However you define yourself the point is you are not alone. And if you know what to look for it becomes very easy to spot the others out there like us.
You might be addicted to traveling if you can answer 'yes' to these statements.
For those keeping score they are worth one point each.
  Do you carry a passport instead of a driver's license?
  Do you frequently wake up and are initially uncertain of exactly what city you are in?
  Do you base everything off of GMT (UTC) just because you are uncertain of your current timezone?
  Does your current "home" have packed bags/luggage laying around, either from your previous/last trip or separate one(s) always ready for spontaneous departures? (Double points if you are a nomad and have no home.)
  Do you talk more to friends in various countries than your old friends from high school?
  Do you believe American "Cheese" has no right at all to be called a cheese?
  Have you ever had to have extra pages stapled to your passport or a new one issued because yours was "just too damn full of stamps"?
  Can you say "Cheers!" in more than five languages? More than ten?
  Do you know more about current foreign policies than what is going on in your own hometown?
  Do the majority of the emails, social media messages, texts and voicemails you receive from family and close friends start with "So where are you now?" or "Are you back in [INSERT COUNTRY HERE] yet?"
  Do you have more than ten travel-related apps on your smartphone?
  When you finally visit home, do people constantly call you outlaugh at you for talking slowly and gesturing with your hands excessively?
  Have foreign words for basic greetings and other simplicities made their way into your verbal vocabulary, even if no one around you knows 100% what you mean?
  Do you believe any sort of 'light' beer has no right being called a beer?
  Would you prefer drinking cow urine over Bud Light? (This question determines both who has visited India and who knows their beer)
  Do the vast majority of your FourSquare points come from "Distance Since Last Check-In: ???? Miles?"
  Have you ever just spontaneously just walked into an airport / bus depot / train station, purchased a ticket for that day, and gotten the hell outta Dodge?
  Do you feel more at home in a different bed every few nights than you do at your actual home?
  Are you proud to say that you no longer watch television because you are too busy living life?
  Do you find sports / entertainment news fleeting or irrelevant, and instead find yourself interested in travel-related or historical/cultural news?
  Can you describe the differences between McDonald's in different countries? (I trust you know this from observation and not participation.)
  Can you name more than 50 countries in under one minute?
  Can you name more than two dozen foreign capital cities in under one minute?
  Do you have any tattoos containing 'RTW' or any other travel-related words or symbols?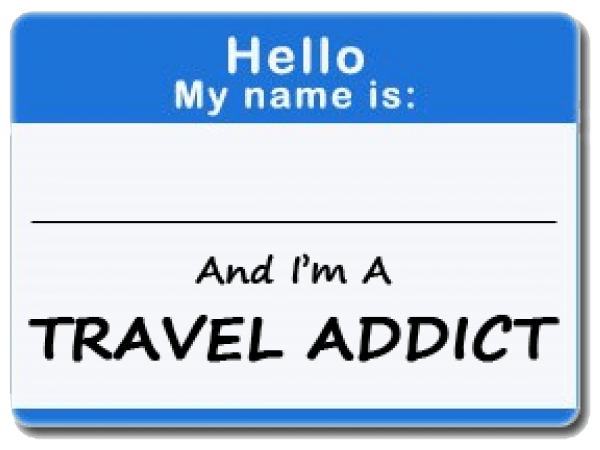 Have you ever corrected and/or argued with a friend over something he saw on the news because you had been there firsthand?
  If you were to write down your grocery list right now, would it contain items that people back home would never have heard of?
  Does you mp3 player or music collection contain types of music from three or more different countries?
  Have you ever been harassed by transportation authorities or customs agents for excessive travel?
  Do you know what lambanog is?
  Do you have any collections of items you have purchased that transcend more than a half-dozen countries? Not counting music, more like shot glasses or wood carvings or unopened bottles of wine, those kind of things.
  Do you have to keep writing new bucket lists just because you keep doing everything on them? (Well then check out my new 2012 bucket list the ultimate Travel Blogger Bucket List TBBL.)
  When someone asks you what's new, do you start naming off countries and/or cities?
  Do you have a membership with MostTraveledPeople.com?
Finally, two bonus questions that are (again, for those keeping score) worth two points each:
  1) Are you in a foreign country right now?
  2) Do you have your passport on your persona or within arms reach?
Well, there you go, a grand total of 35 questions with a possibility of getting a top score of 40.
I ended up with 22...
Damn, apparently I'm not as addicted as I thought.
What questions would you add?
  Share your comments and/or scores below!