My Initial Thoughts
When I first entered the country was this place is straight up the Latino Philippines. From the house shacks to the crazy ass driving (saw three guys straddled on roadster motor cycle from the 80s today) to eve some of the food. Also a bit more expensive then originally thought even at the sodas etc in certain cities. Except for the landscape my god the hills craters mountains it feels sometimes like im in Avatar (no I don't remember the planets name sorry the story line sucked) or dragon ball Z just crazy mind blowing land. Of course these are just initial thoughts things change.
BackPackers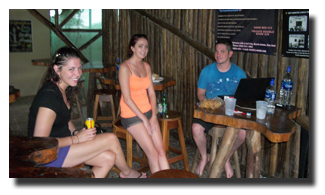 Just chattin' with some fellow backpackers
So one of the best parts of hostels is socializing with people from around the world. A couple of things I noticed way more girls especially from Europe strange even stranger or disturbing they know more about US politics and real news then most of us do. Met a guy from Holland smart savvy know exactly what going on in US and Europe. Met a girl from Germany and was asking me about the Israel pm visiting congress, certain lobbyist groups in the US etc. Now I knew what she was talking about but seriously doubt many Americans know about that or really get it or research it. I was amazed at how smart and informed these people are and they have nothing invested in it!
Even a Tico girl new so much about the North America trade agreement and so on. Every American I met here is just like back home just want to party or buy stuff talk about trending things this and that. Which almost made me think fuck it maybe we deserve whatever Palin, the Koch Brothers or just being screwed by corporations. If we don't care why should we if others countries citizens spend more time thinking about the important things that really matter in America. Do we deserve the classic American lifestyle and is that one of the reasons the American dream is eroding before my eyes. Just glad I could meet regular people who are not activists or political junkies that still get it, gives me hope. also they still are making sure they are informed about their own country.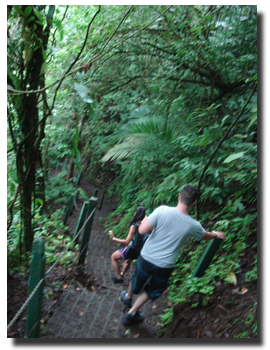 Climbing down over 1000 stairs to the waterfall...
definitely need to be in shape to hang in this country!
Now this is an experience not a sweeping accusation I know people care in the US. US Uncut just started perfect example but its not enough. My point in all this is their is something to be learned about actively caring whats going on in the world and always looking to make it better for ALL OF US.
FYI warning
One thing I have learned really quickly is if you see all these pictures and think Ive got to go. Make sure you are in good shape and by that I don't mean be skinny or an athlete. Typically most places your going to miles and miles everyday. Then after all the walking for food fun drink etc then the activities hikes, canopy tours, cave tours you name it all of it takes endurance. I have been so since the second day I got here and I don't see that changing at all. Don't get me wrong out of shape people can come here but you either going to take a taxi everywhere all day and not do half the activities. On the other hand you can spend a crap load of money and stay at an all inclusive resort and have the most unauthentic time possible.
Tico Party
So last night we went to this bar saw a awesome cover band playing everything from Pink Floyd to Muse which was fucking awesome. Then things really got good mosh pit broke out I ran up in of course as soon as I saw a little shove. After it got going good I noticed that these girls were getting like a 5 foot head start and running in taking out people then would go out again. Well one of these crazy little Ticas took me and someone else out. I remember going up in the air then of course right before my head and back hit the ground 6 people grabbed me and threw back in... Fuck Yeah.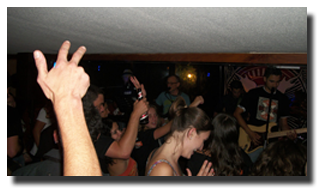 Saw this badass band & partied with locals til sunrise!
Then we got invited to a Tica's house for a party. We were the only non locals there. I am not going to go down to dirty details and ill leave it to your imagination but trust it was fucking crazy until sun up. I could not trade those conversations that night for anything not a zipline or massage etc. There is something so beautiful about people coming together to passionately get to know each others and their culture. You can just feel the energy and then at the end you all say your goodbyes give your hugs then on the next one. Traveling can be truly bittersweet sometimes but such is the cost of living life to the fullest.
And I Even Got
Derek To Give His Input:
All-in-all, I was unimpressed with Costa Rica. I guess I just had seen all the scenery before and felt like a lamb being led to slaughter amongst all the tourists. That and the fact locals quadruples the prices to foreigners. Gets real old real fast. Oh and the local food is bland and unappealing -- except for the ceviche of course. That and fresh fruit and eggs were at the core of my diet the entire time we were there.
But if you have never seen a volcano or hiked the jungle, if you have never experienced hot springs or tried a zipline, well then I am sure you will have a grand time in Costa Rica doing the touristy thing.
Trippin' In Puntarenas
The last full day in Costa Rica Jared and I went balls to the well and double-dipped into the world of Timothy Leary hehehehe ;) It was a daytrip and we spent it wandering around downtown Puntarenas and then out to the beach. Eventually after eating and just as we were returning back to Perla de Pacifico a huge lightning storm came in that lasted for a good six or eight hours.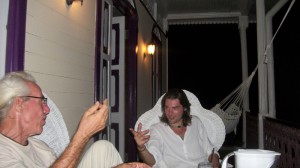 Derek chattin' with Michael, owner of Perla del Pacifico
As the storm was raging all around us, Jared and I joined Michael and his wife and two Nicaraguan workers on the newly completed back pavilion. From our covered spot we had a grand old barbeque of some meat we had purchased from the local market that morning while the storm raged all around us. It was fantastic!
I tell you though, I love immersing myself in a foreign language that I hardly know and trying to communicate with someone else. The past couple weeks so much Spanish had been coming back to me (I took three years in high school just hadn't used it since) but I tell you, trying to speak and understand a foreign language while tripping is a whole different ballgame! I pulled it off okay, but Jared definitely had a rough time. But then again he didn't take it in high school like I did.
This day and night made it for me, made he whole damn trip to Costa Rica worthwhile. And you know what? Shortly after returning home I realized I accidentally still had my front door key to the mansion. Guess that gives me an excuse to return to Puntarenas and see how Michael is doing somewhere down the road...