The first thing to realize about Subic Bay is that the US military has had a navy base there since 1898, when we took control of the Philippines after defeating Spain in the Spanish-American War. Actually, it was the biggest overseas naval base of the United States. Granted, it was finally closed in the early 1990s, but regardless all the locals speak English and there are still many Americans that are retired military living in Subic.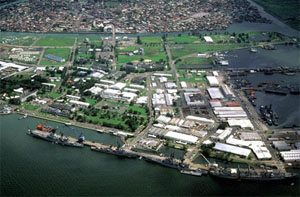 Old US Naval Base turned Freeport Zone
The bay is surrounded by the town of Subic and Olongapo City, both in the province of Zambales, as well as the towns of Morong and Dinalupihan in the province of Bataan in the east. I have never been on the far side of the bay, I stick to Subic and Olongapo. However one time I took out a boat and checked out the entire bay, which is bigger than I originally thought.
The past few years Subic has seen a steady increase in tourism, which has been beneficial for the city as they no longer are receiving the constant influx of American dollars that the Navy base provided, both in taxes/fees and in soldiers spending their wages around town. This withdrawal marked the first time since the 16th Century that no foreign military forces were present in the Philippines.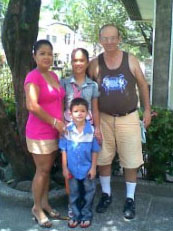 My expat friend Ron and his family
Nowadays there are still numerous American ex-military retirees collecting pension and living in Subic, many of whom had originally been stationed in the Philippines in the early '70s and '80s and just decided to just never leave. Almost all of the bars and resorts in Subic are owned by this collection of men. Through a mutual acquaintance here in Austin I became buddies with one of these gentlemen, a cool fellow by the name of Tom. He owns the resort I always stay at, as well as a disco, a real estate company, and a few other ventures around town.
Over the trips I have made countless other friends with American locals there. Most are surprised that someone my age not in the military has stumbled upon the fun in the Philippines (and with the base being closed, everyone is a little surprised to see a young American around town again -- I still get stares). One of my best buddies in Subic is Ron, who is pictured to the side with his Filipina wife and two kids. He and I like to slip away from our ladies and hit the town or Angeles City when we have a chance. Actually, his wife Elsa (who is friends with my ex Claire) is from Angeles, so they have a sweet gig worked out: once a month the two of them take a long weekend and go to Angeles, with Elsa spending it with her family and Ron spending it around town, no questions asked.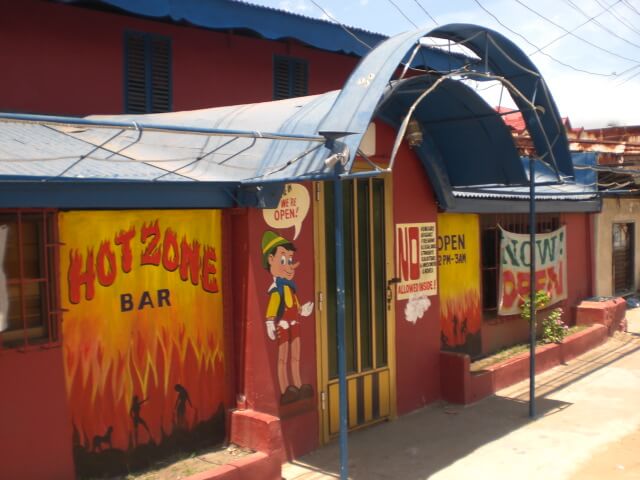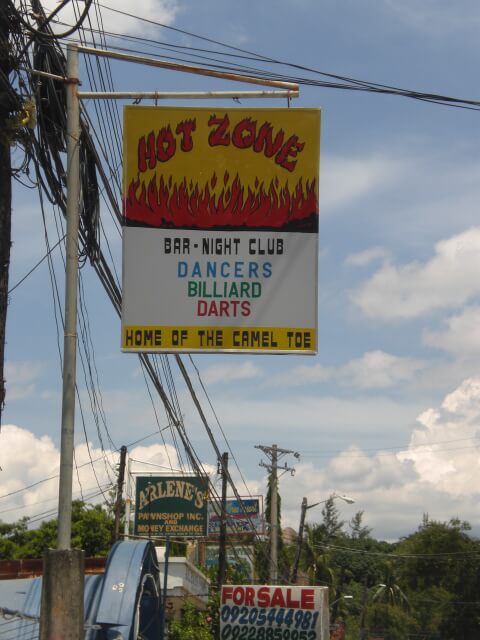 That, in a nutshell, describes the vibe over here. Prostitution is completely normal and acceptable, although no one ever utters that word or mentions the fact that it is technically illegal. As the American locals describe it, it is more like charity. I mean the girls cost next to nothing, and usually they are sending the money back to their home province to help their family. Besides, the girls don't seem like hookers either. If you have never been with an Asian or experienced the Asian mentality, then I am sorry but you do not know what you are missing. It's different. Those ladies are all about making you happy, it is easy to believe that she genuinely likes you. Compare it to a one-night stand after going downtown. You really don't feel like you just purchased the lady of the night.
And no, there are no pimps over there, at least not in Subic or Angeles City or anywhere else I have visited. All the working girls are affiliated with one of the bars or discos. They will show up every evening looking tempting and are impossible to miss or mistake. It works like this: when you go to pay your tab for the night, after you have chosen a girl and are ready to take her home for the night, the bartender will add a thousand or two pesos to your tab. This is what is known as a bar fine -- 50% goes to the bar and 50% to the girl. Better numbers than a pimp will give you anyway.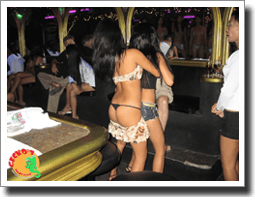 The working girls get annoying fast...
Because the girls are always affiliated with a bar or disco, their beauty and availability and health are what consistently brings people out every night. Every week the working girls will go and get a test from the local clinic, certifying they have a clean bill of health. If you ever seen any of the usual girls sitting on the sidelines, not dressed up (or dressed down, as I suppose the case would be), well then you know why. Many of the locals joke about how back in the day, in the '80s for example, the guys would find out what days the bars tested all their girls and then make sure to hit that bar on that night, so they always had a guaranteed clean girl. Tricky sons of bitches ha ha ha...
All that having been said, Jared and I were a little surprised by our first visit. From the second we got out of the van and followed the luggage guys upstairs to our suites, the women were on us like we were f'ing celebrities. It was incredible! We stayed at Mango's Resort, which had an attached disco, so the girls were always close at hand. Hell, the first trip we only stayed for a week because we did not know what to expect. At the end of that trip we had a good half-dozen of the locals all ask us the same question: "So, how many girls did you take home this week?"
  Jared and I were a quite shocked, but not as shocked as the local guys when they learned that we had not taken any of the girls home, having shot down all their advances even while completely drunk. In our opinion we are both young, hip, good-looking guys, why should we have to pay for sex when we can get it for free?