The Whole World Wants To Know... What Now?
The world was shocked less than 48 hours with the news that Kim Jong-Il has died suddenly from a heart attack -- although many different people are shocked for many different reasons. Many were caught off-guard by this announcement simply because it was the first major news story of 2011 NOT to break on Twitter. And yes, undoubtedly there is grief in North Korea, no doubt, but I believe others there are also breathing a sigh of relief. View the video below and judge for yourself.
At the same time, I'm sure still others in North Korea see this at their opportunity to wrestle the reins from the supposed new leader, Kim Jong Il's youngest son Kim Jong-Un, reputedly 29 years old and hereby deemed "Great Successor." And of course you also have officials here in the West, hoping that maybe now will finally be the beginning of the end of their North Korean issues. But what about South Koreans? Maybe a twinge of hope that a peaceful reunification just got one step closer...?
While I have yet to visit the DPRK firsthand, my first trip is -- well, provided their stance on tourism does not change in the next few months -- scheduled for April 2012, going to catch the North Korean Centennial. In the last couple years I have become fascinated by what is undoubtedly the most ethically homogenous country in the world. And, until just 48 hours ago, I was convinced that I would have the opportunity to view Kim Jong Il's North Korea. While I am sure Kim Il-Sung's Korea was a better one, the possibility of radical and rapid changes now the Kim Jong Il have passed cannot be overlooked. I do not mean prosperity overnight, but policy changes towards tourism, politics, foreign relations, etc.
While it is not my place to criticize any of the DPRK's potentially questionable actions, that does not mean I am blind to it all. I have watched every documentary and news special ever released on North Korea, past, present, and future. And while everyone out there wants to shove their predictions and beliefs down your throat, I feel it is much smarter to provide you with the evidence and then decide for yourself. If you really are curious about North Korea, these documentaries are some of the best (for different reasons) and will give you all the background information you need:
North Korea: A Day in the Life [2004] A 48-min North Korean documentary that shows the life of a "normal" Pyongyang citizen -- if by normal you mean 'military upper class,' then yes... Wildly interesting and informative though!
Crossing The Line [2006] Highly Recommended! British documentary about James Dresnok and the other Americans that defected to North Korea during the first half of the 1960s. It covers Korean history and post-war sentiments, the hatred the defectors Americans had to incur while at the same time being made stars of propaganda films by a young Kim Jong Il, and even takes you all the way up-to-date in modern Pyongyang.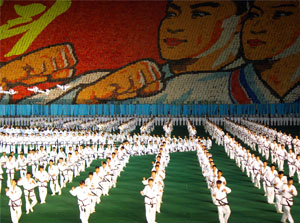 The breathtaking spectacle that is the Mass Games
A State Of Mind [2004] Another British documentary, this one following two girls as they performed for North Korea's Mass Games. Again highly interesting, if not at what they show but at what they do not show.
Welcome To North Korea [2001] Shot entirely from footage gathered during a "normal" tour of North Korea, this will give you a basic glimpse at the most of DPRK us foreigners could ever hope to see.
Independent news specials that are also noteworthy:
-Frontline: Kim's Nuclear Gamble
-North Korea: Undercover In The Secret State (CNN)
-Nuclear Nightmare: Understanding North Korea (Discovery)
Children Of The Secret State [2001] I loathe to even mention this title as it is one of the oldest and most mainstream of all DPRK documentaries. Footage from it has been re-used in EVERY single North Korean documentary since its release -- you have probably seen parts of this without even realizing it. Full of raw, uncut, and often shocking footage smuggled out of NK, this documentary tells the story of British journalists attempting to meet with an undercover smuggler of raw North Korean videos and one of North Korea's most wanted "criminals" while documenting how the North Korean Underground Railroad operates.
If you still need more to watch, check out: Kimjongilia, Friends Of Kim, and Seven Days In North Korea.
All of these documentaries and others are available for streaming and/or download via numerous online sources. Also consider searching for "North Korea megapack" -- it contains 16 documentaries in one quick and easy download. Additionally, you can also view the full list of documentary films about North Korea to see if you can find any others that you might have missed.
In closing, I wonder what further details to Kim Jong Il's "heart attack" will be released in the future. Probably not too much at all, considering the secretive state's track record. I am more curious as to the future of North Korea. Unfortunately, only time can will tell...
  Take a look at the news footage showing North Korean citizens and government employees weeping at the death of Kim Jong-Il. Some of it looks a little strained...not like the true grief that was experienced whenever Kim Il-Sung died. But what are your thoughts?
  How do you feel about North Korea and/or the death of Kim Jong-Il? Have you seen any of these documentaries or maybe even been to North Korea? Share your thoughts with us below!