Indonesia is a vast and diverse archipelago that continues to impress and surprise longtime expats and even locals. To think that because you've seen Jakarta and done Bali then you "know" Indonesia is to be sorely mistaken. As one expat told me: "Just when you think you're starting to understand Indonesia, that's when you realize you don't understand it at all."
From amazing cultures and regional customs to a seemingly neverending variety of local cuisines, Indonesia is home to more diversity in some of it's larger islands than other nations have in their entirety. Especially when it comes to langauges and dialects, of which the country has over 700 -- and don't think that Indonesian (Bahasa Indonesia) is even remotely similar to Javanese (Bahasa Jawa) or Balinese (Bahasa Bali) because its not. After all the slogan of the country is Bhinneka Tunggal Ika, which is Javanese for "Unity In Diversity."
What To Know Before Traveling Indonesia
Indonesia is home to some of the friendliest and most hospitable people I have even met. During six months motorcycling around the country and making local friends, even doing a tourism film on Sumatra, I had nothing but good experiences with the best of people. All except for while I was in Bali -- but I'll get to that in a second. For now the most important things to know are:
The Street Food Is Better Than Restaurant Food
Both in terms of taste and authenticity, street food kicks all other food's ass. Oh yeah and of course price. Depending where you are in the country you can get a decent meal for around 11,000IDR ($1USD), a little more if you want to splurge and really fill up. Don't worry about getting sick, just go with the street vendor or warung has the most local customers. After all they must be doing something right!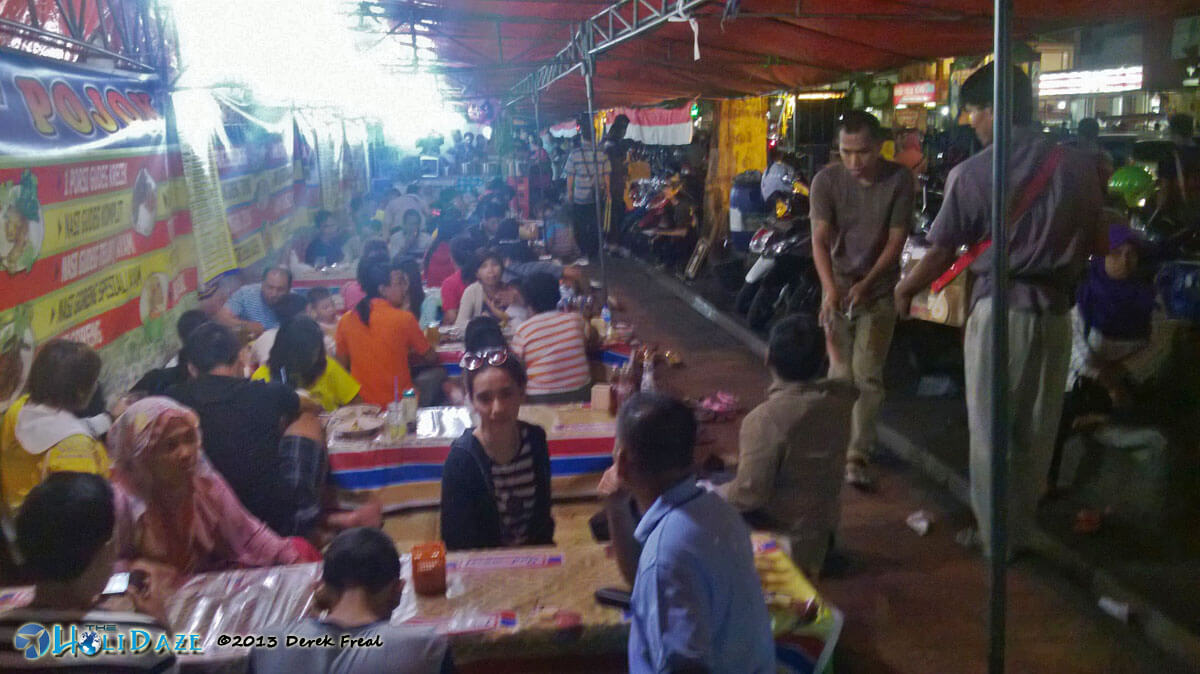 Street food in Yogyakarta, Indonesia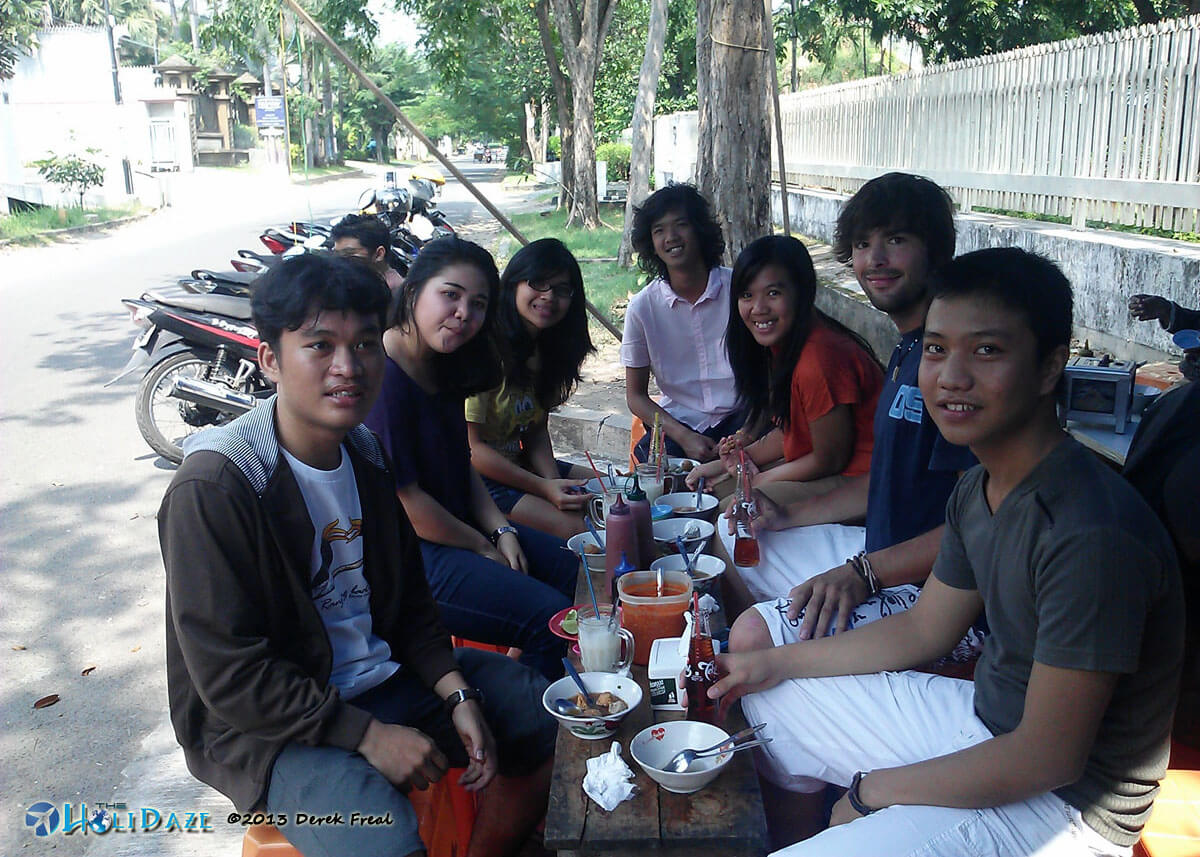 Bakso on the street with friends in Suarabya, Indonesia
Expect a lot of variety in dishes and sweetness/spiciness depending upon where in the country you travel. However no matter where you visit there will be lots of fried dishes, such as nasi goreng, mie goreng and ayam goreng (rice, noodles, and chicken respectively -- and of course as you probably guessed goreng is Indonesian for fried). Beyond that the variety begins. For every city you visit make sure to ask the locals what their speciality is.
Learn more before your trip: First Impressions: Indonesia and Basic Indonesian Food Cheat Sheet.
For Every Good Tourist Site There Is An Even Better "Hidden" One
Indonesia has no shortage of spectular views, virgin beaches, challenging mountains, and off the beaten path exploring. When I first arrived there I thought one or two months would be enough. Six months later and I still didn't want to leave. Yet during my travels I had met so many other backpackers, all of which were visiting Yogyakarta, Mount Bromo, and Bali. "Oh plus Gili T and Komodo if we have time" I heard more often than I can count. Hardly any stopped by Sumatra. And none had even thought about Kalimantan or Sulawesi, let alone Papua.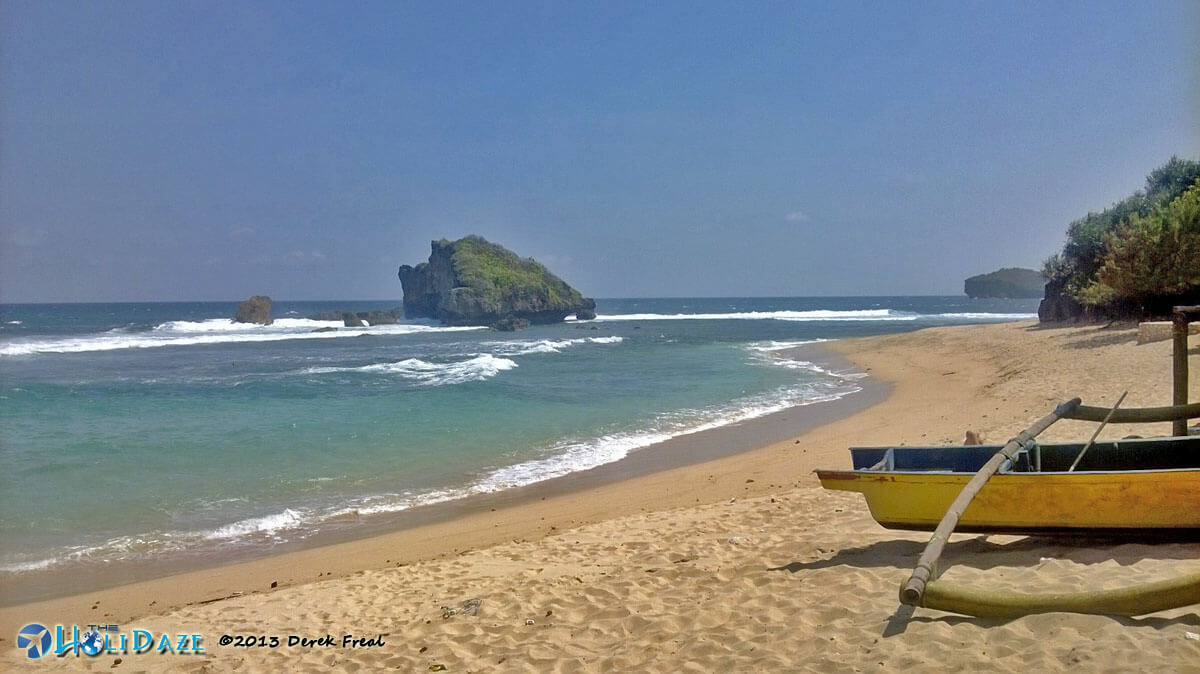 Pantai Sundak, Gunungkidal, Indonesia. My ten local friends and I had it all to ourselves!
Trust the locals. Ask them where to visit, what to eat, how to have fun. The friends I've made along my journeys through Indonesia have shown me a world of things not covered in any tourist guide book, from traditional pastimes and 5am fishing trips to lesser-known things like panjat pinang and stick-fighting. And of course more virgin beaches than I can keep track of!
  My friend Trinity is author of the famous Indonesian book series The Naked Traveler. Last week her newest book went on sale, Across The Indonesian Archipelago. If you are looking for ideas on where to travel in Indonesia then this is both a great resource and an enjoyable read. (And yes, it is in English.)
Local Transportation Is Easier Than You Might Expect
Especially on the main island of Java, which has a reliable train network and plenty of regular routes. Outside of Java you will have to rely on buses and ferries, the latter of which can have a bit more of an irregular schedule depending on how remote your intended destination may be. However in places like Sulawesi short flights might be a better, albeit more expensive, option.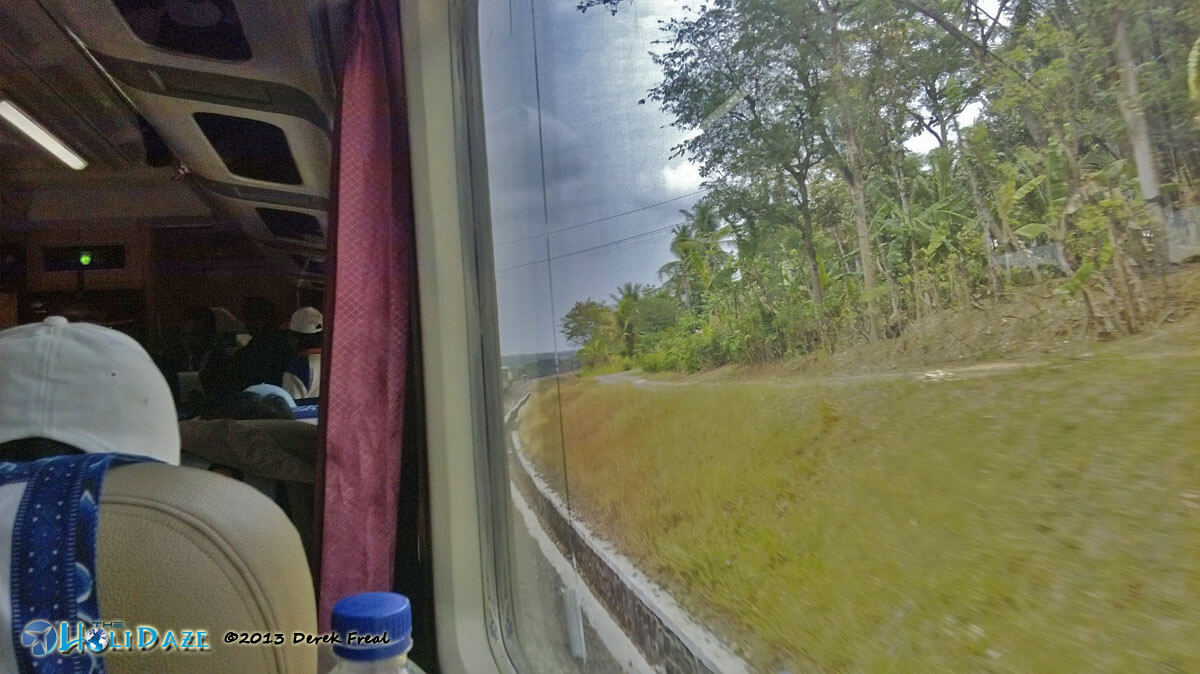 Taken while traveling by train across Java
Renting a motorcycle is also another option. Of course I would only recommend this option for experienced riders, preferably ones already used to driving in the chaotic streets of southeast Asia. For 50,000IDR/day ($5USD) or 650,000-1,000,000IDR/month ($60-90USD) a scooter or motorcycle can be rented, allowing you to go where you want when you want. This has fantastic way to visit small villages and other off the beaten path destinations. It is the only way I ever made it to places like Banyusumurup, the traditional village that makes all of the kris, small Indonesian daggers with mystical powers. Plus despite horror stories of bus thieves and midnight muggings in Sumatra I have yet to encounter any difficulties along the road.
  For more read my newest blog post: How To Travel Indonesia By Motorcycle
Don't Rush Off To Bali -- Explore Elsewhere First
If you only have one month or less in the country then I would say skip Bali entirely. It is an over-priced, Westernized version of Indonesia where the bulk of the individuals working in the tourism industry are not even Balinese but rather Sudanese or Javanese and have come solely to take your foreign money. As a caucasin here you essentially have dollar signs tattooed across your pale forehead. Plus as with any place that attracts massive notoriety as a tourist hotspot so too come the touts, beggars, scam artists, foreign food (so you can "feel at home") and of course the inflated prices. At the risk of upsetting some of my Balinese friends I'll say it: if you get pickpocketed or robbed anywhere in the country, it most likely will happen here. It is a predators' paradise because the prey keep flying in 365 days a year.
Don't get me wrong, Bali is not all bad -- just the southern part is. Kuta, Denpasar, Sanur, Uluwatu, etc. In fact Googling "kuta is hell on earth" or some near varient will produce several interesting articles by other bloggers on why Bali is only for couples or families looking for all-inclusive four- and five-star resorts and not for backpackers. The eastern and northern parts, most specifically Padangbai and Ubud, weren't nearly as bad as the Kuta area but neither were they that good.
Talon of 1Dad1Kid.com and I crossed paths in real life one day in Sanur. Turns out he and I had the same feelings about this island. If you are unsure about visiting Bali then his post will help you decide if the island is right for you.
I basically can't encourage people to come to the island. Indonesia has some truly amazing areas, and I think a person's time and money are better spent exploring other parts of the country.
Not A Good Destination For Former Cigarette Smokers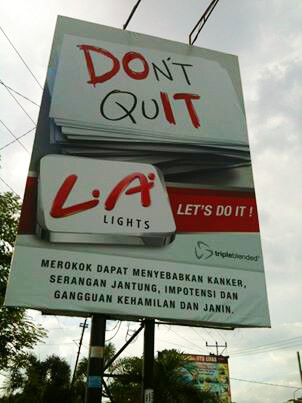 Indonesia ranks third in the world for total number of cigarette smokers according to the WHO. Almost all of the men smoke, far too many kids, and yes, even the orangutans. The tobacco industry is big business here and as the Western world keeps placing more restrictions on cigarette advertising and marketing the tobacco giants keep pumping more money into southeast Asia. Despite 'No Smoking' signs in places like malls you can often find someone less than a meter away, using the floor as an ashtray.
To make matters worse cigarettes are around 10-14,000IDR ($1-1.25USD) and sold at every family-owned market, corner store and restaurant. Although I quit smoking after moving out of Tokyo in 2009 I have found myself occasionally smoking a kretek cigarette when drinking. Although this is entirely social, if you tried hard to quit cigarettes and do not want to see and smell the temptation everywhere you go, you might best avoid Indonesia. Even as I type this I am sitting in a smoke-filled office in Jakarta.
  House Of Sampoerna, Cigarette Factory And Museum
All in all Indonesia is one country that does not disappoint. There is a reason why so many travelers over the years have come here and then never left. Between the warm, inviting culture, vastness of the country and extensive list of places worthy of exporing, beautiful scenery and delicious food, Indonesia truly has something for everyone. You just have to know what you are looking for.
  Have any Indonesia travel questions? Ask away!
  The Ultimate Unique & Off The Beaten Path Indonesia Travel Guide     Indonesia Archives