Traveling is an amazing adventure. There is nothing worse than your adventure getting put on hold or diminished due to a lost bag. That is why minimalist traveling is the only way to travel. With one carry-on bag, you can hit the ground running. This may seem daunting to the overly prepared traveler, but it actually takes some of the stress out of traveling. The key is versatile clothing. You need a few quality pieces that will go a long way.
Many people over pack because they are uncertain what they will encounter, and, without the aid of a full closet, afraid they will be without that perfect outfit they need.
You simply need to change your mindset and then take a leap of faith. Most of the time people only use a fraction of what they pack. What if you planned ahead and had outfits for multiple purposes? Once you realize you can work with what you have, the stress melts away. You throw on an outfit and you are ready for the beach, the trails, the market or dinner.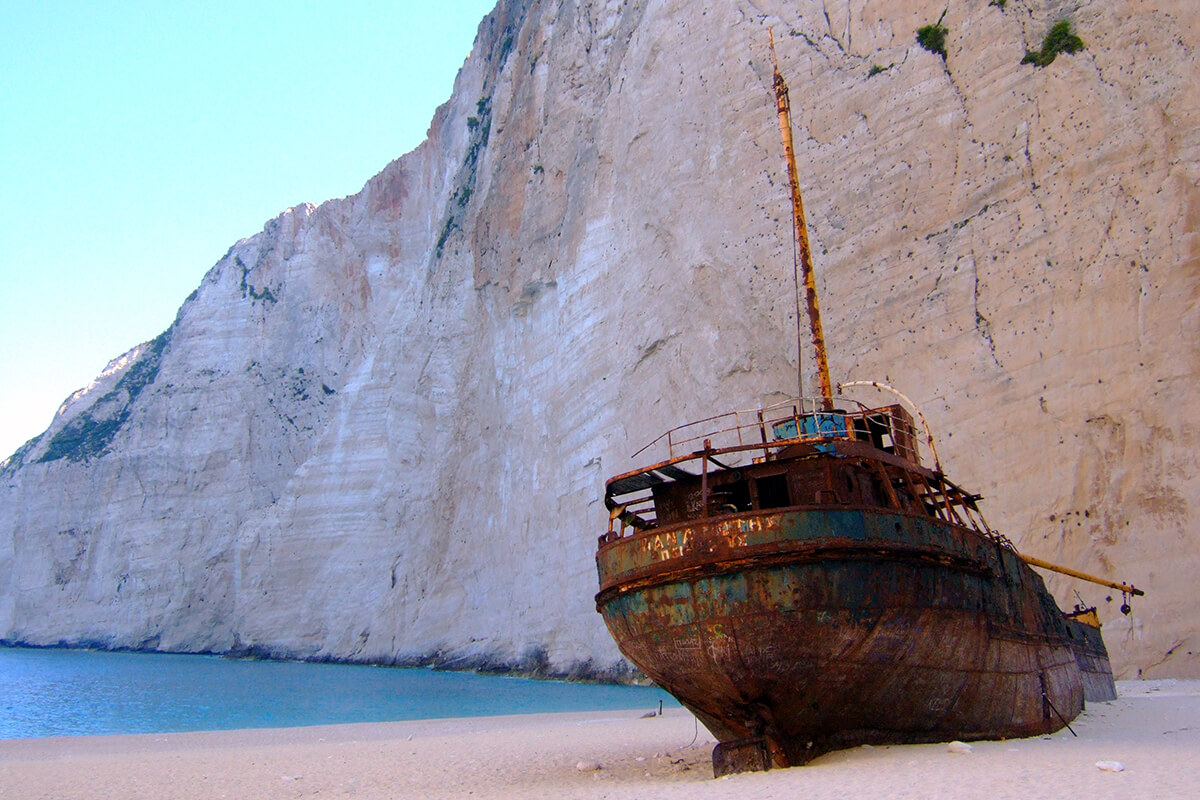 Navagio Shipwreck Beach in Greece
Pants
Decent pants can be one of the more bulky items to pack in your luggage so you want to keep their numbers to the bare minimum. One pair of casual pants should be enough, or two if the weather deems it necessary. When it comes to cooler temperatures and inclement weather such as rain and snow, pants that are durable, lightweight and weather resistant are priceless. Exponentially more so when it comes to outdoor activities such as trekking and hiking, where proper laundry facilities are not available. Gearweare recently reviewed the best pants for just such an environment -- read more here!
Dresses
For the ladies out there, travel dresses are one of the most versatile pieces in your minimalist arsenal. They dress up and down with the greatest of ease. If you add in a pair of slide shorts, you are prepared for almost any occasion. Almost every culture utilizes some kind of dress or skirt, so they are easy to adapt to different locals. You can wear one dress many ways, which makes it perfect for travel.
In the winter and fall, throw a scarf, some leggings and a warm coat in your bag and you are ready to go. If it gets warm out, ditch the warm accessories and don a pair of sandals. Accessories tend to pack down smaller than wardrobe pieces. You can pack a couple of dresses and not have to worry about making sure all your tops match all your bottoms. You simply throw on your dress for the day, and you are ready to go. Visit sites like tobi.com to find the perfect dress for your next adventure.
Fabrics
When choosing clothing, look for synthetic fabrics or natural moisture wicking fabrics. You want your clothes to wash and dry easily. This makes doing laundry while traveling as easy as finding a small sink. Merino wool is a great natural fiber. It is soft, unlike the wool of your grandparents' days. It wicks moisture, is antimicrobial and dries quickly. Bamboo is another material that is great for travel. It is typically lighter feeling than merino wool with the same fantastic attributes. When possible, stay away from cotton. It takes a long time to dry and doesn't maintain its thermal abilities once wet. There are many nice synthetics out there as well.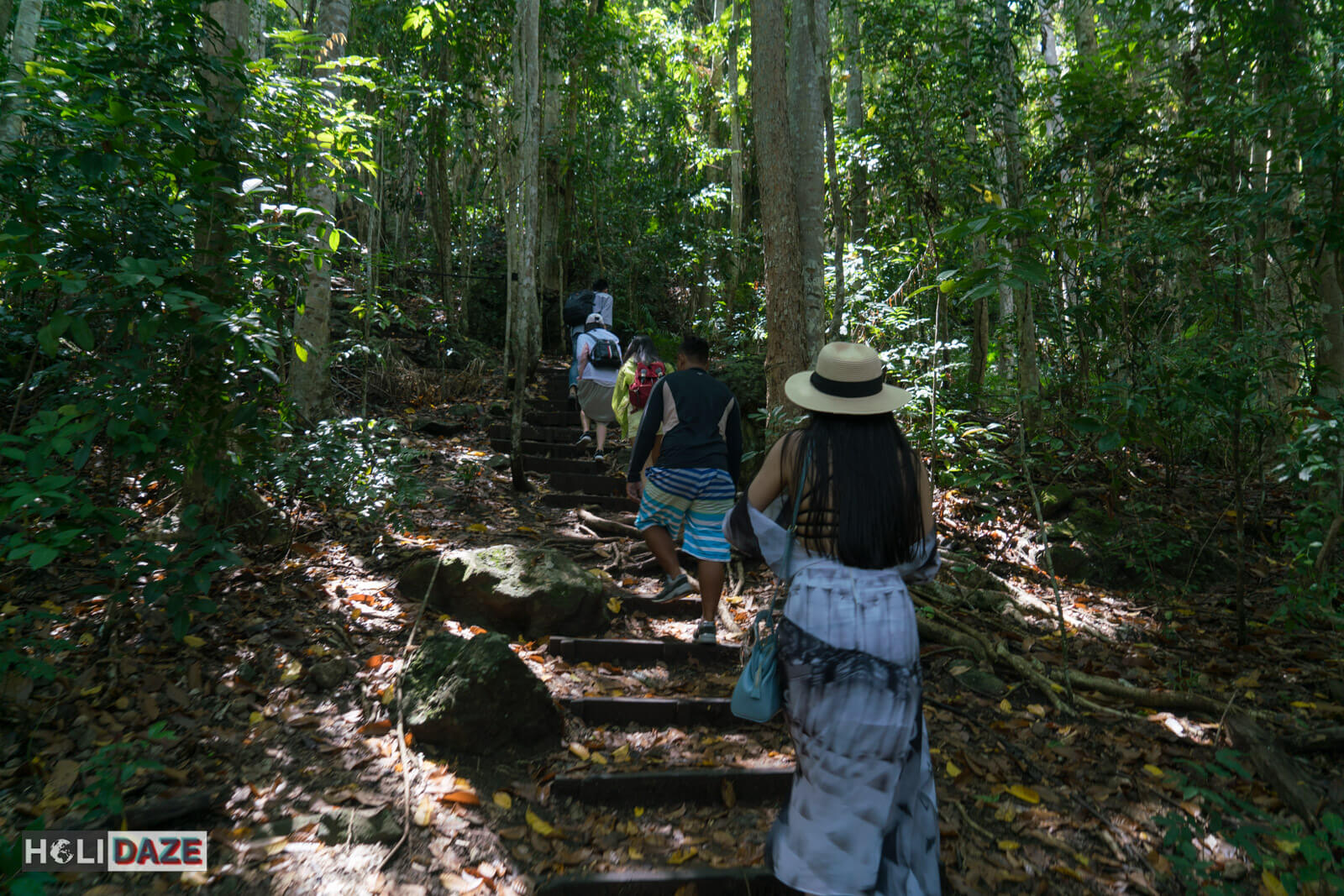 Remember to wear appropriate clothes -- and shoes -- when hiking up Bohey Dulang in Sabah, Malaysia
Shoes
Keep your shoes to a minimum. They take up a lot of room in your bag. Wear a pair and pack a pair a most. Have a pair of sneakers of light hikers and a pair of sandals. This should cover most of your needs no matter what the adventure. Sandals are great for warmer climates and can double as dinner shoes with your dress if you're a lady. Your sneakers or light hikers fill in the gaps. They can be used for outdoor adventures and workout sessions. These shoes should have more support than your sandals and be comfortable in case you are on your feet all day. Typically, these will also be your travel day shoes as well since sandals usually pack down smaller.
Underwear and Socks
There are many companies that sell travel underwear these days. If you invest in a couple of good pairs, you can lighten your load and still feel fresh. Good travel underwear resists odors and washes easily. With two pairs, you can always have a clean pair while you wash the other. Also, invest in a good pair of socks or two. A good pair of socks helps keep your feet happy and last a long time. Two pairs of merino wool socks are all most travelers need.
Traveling light has many advantages. With less stuff to keep up with, you are less likely to lose something important. Staying mobile is a lot easier when you can sling one bag on your back and head out the door. Choose quality products that are easy to wash and resist odor. When you travel with less, you can afford to spend more on quality items. Always go for versatility.