Walking to many different landmarks and attractions in a city can be a bit tiring. This is especially true for people who are not in the best of shape. Luckily, there is an easy way for people who are on vacation to enjoy all of the great sights that a city has to offer. A bus tour gives a person a very comfortable way to see many important things in a city. You will also be able to see these things in a very short period of time. This is helpful if your time is limited and you will not be in a certain city for very long. Here are a few of the tips you can use to make your bus tour as enjoyable as it can possibly be:
1. Take your bus tour on a weekday.
A tour bus that is packed with tourists is not the most enjoyable place to see the sights. It is much better to be on a tour bus that has some empty seats that allow you to have some elbow room. You want to avoid a situation where you and the other people are packed into the bus like sardines. One of the easiest things you can do in order to prevent this situation from occurring is to schedule your bus tour on a weekday. Avoid the weekend at all costs. It does not take a genius to figure out that NYC bus tours will be much more packed on the weekend.
2. Get on the bus early.
The location of your seat on the bus will determine how well you are going to be able to see various things during the tour. The people who get on the bus early will obviously take all of the seats that are located by windows. They will also fill up the top deck of the bus. This is why you should always get to the place where your bus tour will depart as early as possible. Being one of the first people to get there will guarantee that you will get one of the best seats on the bus. This will mean that you will be able to take photos that are unobstructed by other people on the bus.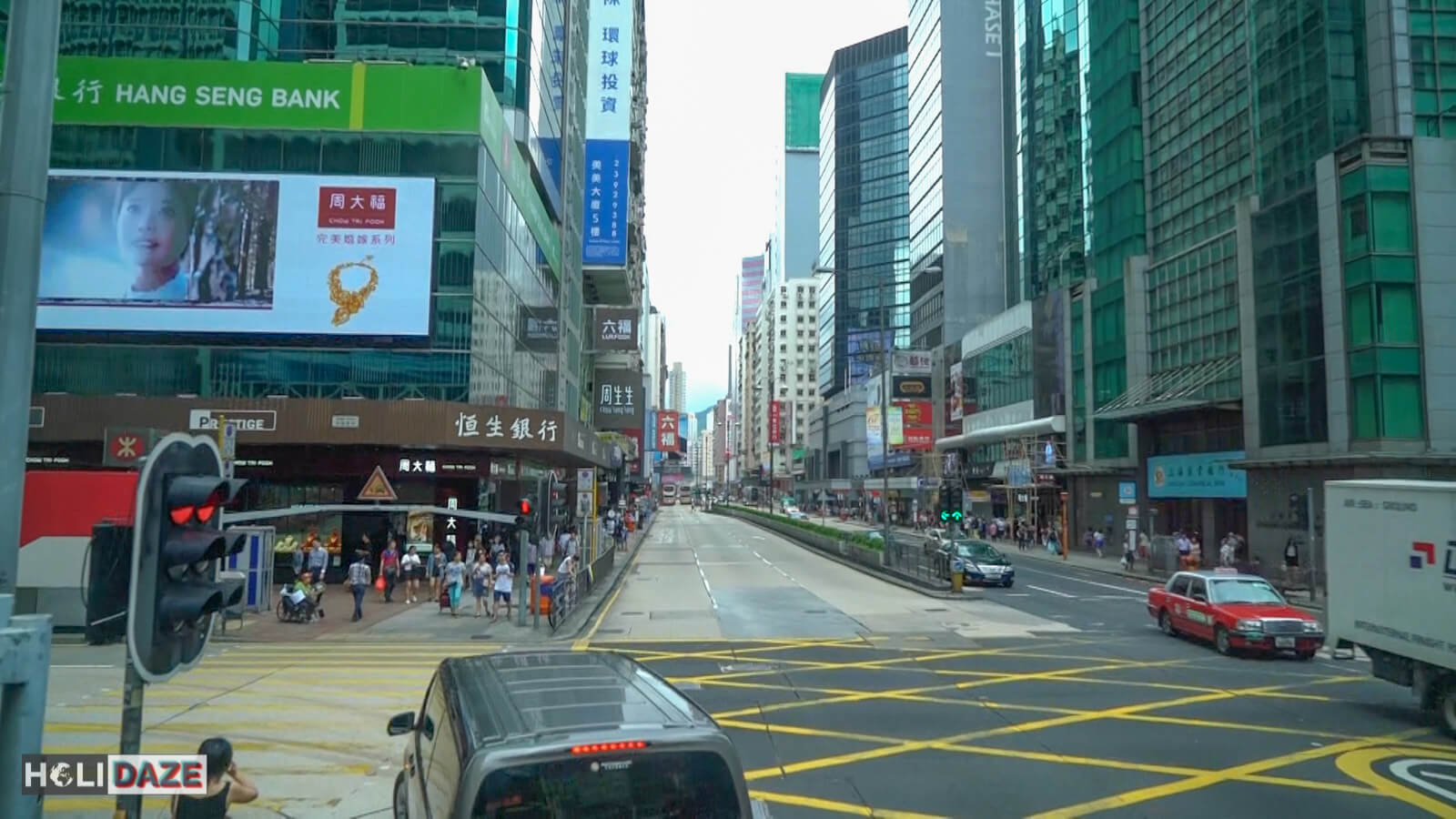 Unobstructed view from the front of the upper deck on a bus in Hong Kong last month
3. Look at the weather forecast far in advance.
Mother Nature can sometimes wreak havoc on your bus tour plans. Going on a bus tour on a rainy day is bad for several reasons. First of all, you will get soaked if you are sitting on the top deck of the bus. The pictures you take will be dreary and depressing because of the dark skies and the rain obscuring the thing you are taking a picture of. You should only take a tour of a city when it is looking its best. You do not want your memories of the city you went to on vacation to be of bad weather. This is why you should keep tabs on the weather forecast and schedule your bus tour of the city accordingly.
4. Avoid taking a bus tour during rush hour.
Not many people enjoy being stuck in rush hour traffic. Make sure that you book your tour in the middle of the day so that rush hour traffic will not be an issue.