If you travel long or often enough, it is inevitable – something will go wrong. I'm not talking about life-threatening incidents that fingers crossed, we all manage to avoid whilst on the road. I'm referring to those moments or events that irritate even the most experienced traveler – plane delays, bus breakdowns, stolen bags, over-booked hotels, scams, bed bugs, lost passport, food poisoning, getting locked up abroad – just to name a few.
When your travel adventure becomes a travel misadventure – and it will – take a deep breath and remember the following:
1. There is always someone worse off
When you refused to eat your vegetables as a child, did your parents respond with the comment "there are starving children in Africa who would love to eat your food"? Me too – and it used to drive me mad.
But let's face it - it's true.
The majority of travel misadventures happen when we are in an unfamiliar territory, so take a moment to really take in your surroundings and put your mishap into perspective. Bed bugs are itchy but they are not life threatening. A lost passport can be replaced. A wallet that has been emptied by thieves can be refilled with money sent from home. A cancelled flight will be re-scheduled.
Even if your travel misadventure happens in a developed, wealthy country, compare your surroundings to those a hundred years ago, fifty years ago, even a decade ago. How much more difficult or time consuming would dealing with your mishap have been back then? You certainly wouldn't have a smart phone to research alternative options, create a backup plan, call for assitance, or even to pass the time waiting for a resolution.
It's all about perspective.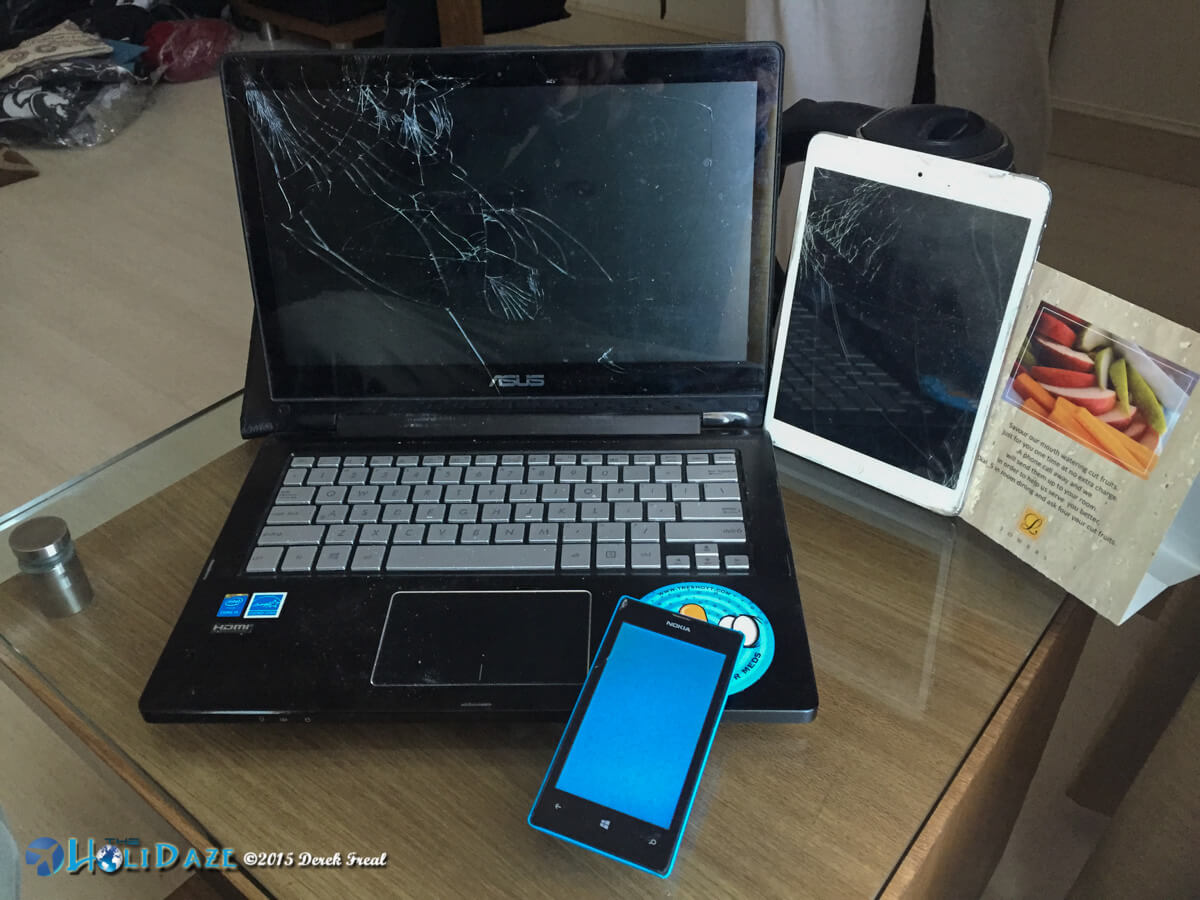 Electronics bag fell off the rickshaw and was run over by a car during our Rickshaw Run race across India
2. Material items can be replaced
You have travel insurance and material items can be replaced. You do have travel insurance don't you? Have you heard the quote "if you can't afford travel insurance, you can't afford to travel?"
Even if you cannot afford to replace your item immediately or are not in a place where it's available for sale, is it really an item you cannot live without? Will life stop because you don't have your mobile phone? Will it kill you to use the internet café instead of emailing from your laptop in the air conditioned, Wi-Fi enabled café? Is watching the local action movie on the bus instead of blocking out the loud foreign words with your iPod really the end of the world?
Material items are luxuries - life will go on without them.
3. What doesn't kill us...makes a great story
Misadventures are all part of the travel experience. Taking a deep breath and viewing your mishap as a future story to write about or embellish over beers with your mates is a surprisingly effective coping mechanism!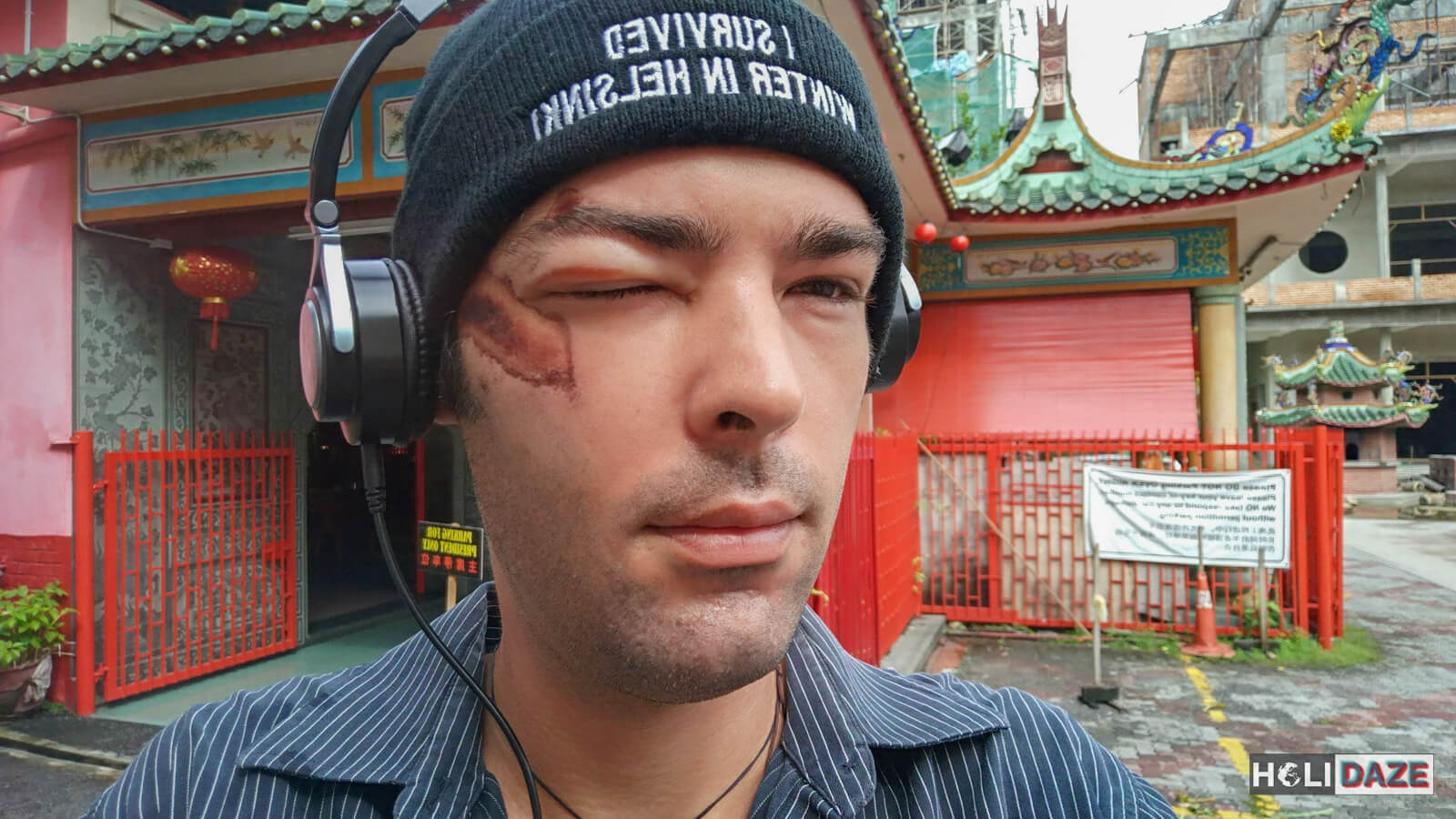 4. There is always a lesson to learn
Travel misadventures have the ability to teach you both tangible and intangible lessons. Patience, tolerance and inner strength are personality traits that are often enhanced by the inevitable challenges faced on long-term or regular travel stints. The ability to calmly face a travel misadventure head on is quite a liberating feeling and surviving your first mishap will definitely give you more confidence at dealing with the next one.
But there are also practical lessons to learn. I've learned how to recognise and medicate bed bug bites, I know how to replace a lost passport, I can find alternative accommodation when my planned guesthouse is full and I know the numbers to call to cancel my stolen credit card.
I've also learned that leaving the camera strap around my neck when my using my tripod will avoid my DSLR going for a swim in a glacier lagoon, leaving my bag on my lap instead of under the table is less likely to attract thieves, and having a book with me is a great way to pass the time when buses are delayed.
5. Some of the most memorable moments happen when things don't go to plan
I have lost count of the great experiences I have had as a result of something going wrong: delayed flights that result in a conversation in the waiting lounge with a new friend, blocked roads that create an unplanned visit to a location that becomes a highlight of the trip, fully booked hotels that direct you to a guesthouse owned by colourful and entertaining characters or moments of kindness that enhance your experience of a country.
I experienced one such moment of kindness when I was the only foreigner on a bus to Mondulkiri in Cambodia – a bus that broke down as the sun was setting, an hour outside my destination. As the locals accepted their fate, started passing around a bottle of rice wine and got comfortable in the bus that would provide their bed for the night, I looked for alternative options. Six hours later, after hitching a ride in the open back of a passing truck, I arrived at a guesthouse on the outskirts of the town I had been heading to. I was soaked through from the rain, my clothes and backpack covered with mud, barefoot and carrying a broken shoe and legs covered with bites from sand-flies.
As I looked around in darkness, realising the guesthouse was closed for the night, my sense of adventure and humour drained away with the streams of water from the afternoons' rain. Exhausted and close to tears, I knocked on the door of the only room with a light on and felt my heart sink when the curtains were opened and quickly closed again. Obviously the occupant had taken one look at the state I was in and wanted nothing to do with this crazy and dangerous foreigner.
A minute later the door opened and a little old Cambodian man handed me a clean pair of shoes, took my arm and led me to a room. Unable to speak English, he silently turned on the lights and checked there was hot water. When I asked 'how much' he shook his head, handed me the room keys and said goodnight. This simple moment of kindness remains one of my most heart-warming travel experiences to this day.
Travel adventures all have an element of misadventure – it's all part of the experience!
  Have you had any travel misadventures? How did you cope?