White Sox. Hot dogs. The longest street in the world (within one single city). The Bulls. 15 miles of public beach. Chicago-style pizza. Yes, the Windy City is home to many things, and it's important to experience and indulge in as many of them in as possible while here. If you've only got time for a short trip to Chicago, overabundance is the key.
Chicago-Style "Red Hots"
When it comes to Chicago cuisine, hot dogs are one of the city's most iconic dishes. Part of this is undoubtedly a result of Oscar Mayer getting its start way back in 1900. And while they still have a factory here, in this post-9/11 world we live in now, it no longer offers tours. (Because we all know that's the first thing the terrorists will go for, our wieners.)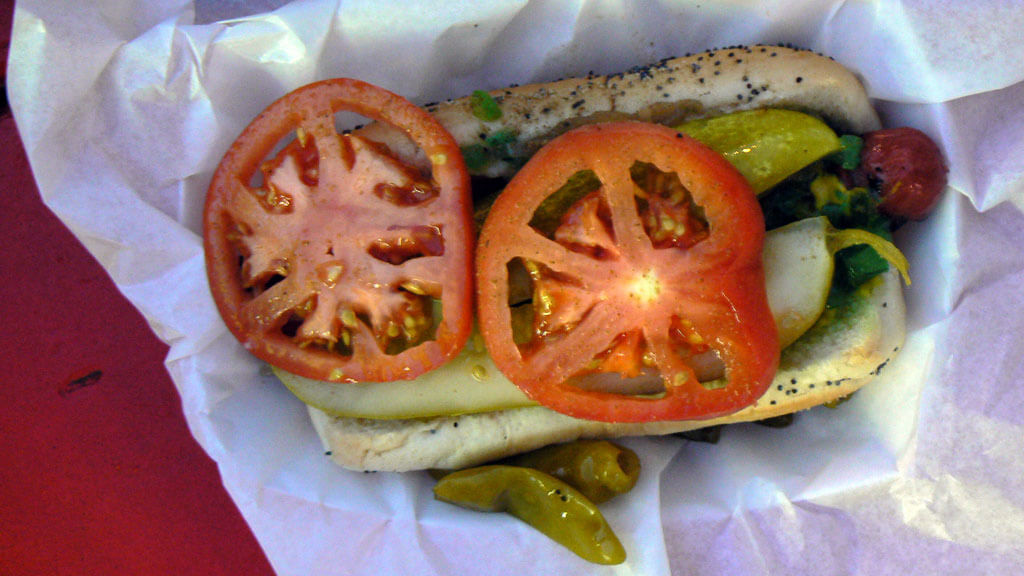 Chicago-style red hot dawg....simply delicious!
However, thankfully Chicago style dogs can still be found throughout the city. The battle for Chicago's best dog still rages strong, but that doesn't mean you cannot partake in a few selective battles. Jimmy's Red Hots usually tops most people's top three lists of hot dog joints in Chicago, and for good reason. For over 50 years they've been perfecting that art of the dog and still stay true to tradition by serving all its meals through a small walk-up window.
On the other end of the spectrum is Franks 'N Dawgs, which despite the rough name is actually a rather refined hot dog joint. They've elevated hot dogs to a gourmet level. You have to taste them to believe them! Try the Lamb-orghini, or for a Vietnamese-infused flair, the Banh Mi.
Love pizza?   Monster Pizza Challenge in Las Vegas
Chicago-Style "Deep Dish"
Pizza in Chicago also has its own unique flair. And much like the rivalry between Nathan's and Oscar Mayer, the feud for the best rages not just between restaurants within the city but also between the cities themselves. While New York goes thin and wide, Chicagoans do like they do with everything and overload it.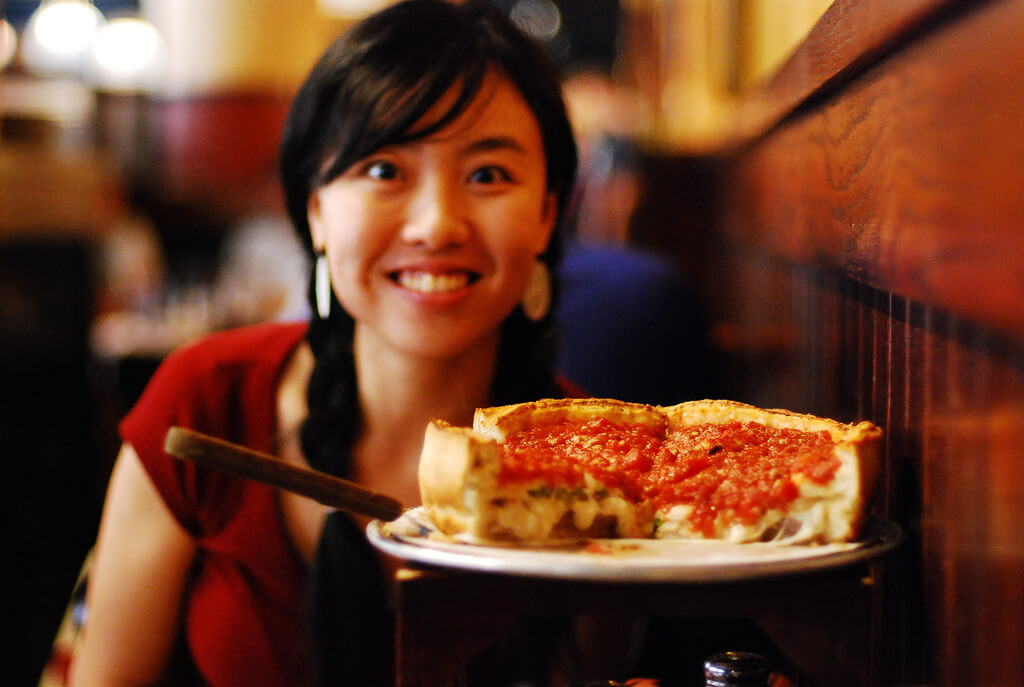 Chicago-style deep dish pizza
The most popular of all Chicago-style pizzas is known as "deep dish," and it is exactly what it sounds like. It's pizza so hefty you can eat it with a fork. It's the pie of pizzas. And there are far too many amazing pizza joints doing phenomenal things to mention. The Art of Pizza is one such place that is doing great things -- you can tell that by the name alone. Another is Burt's Place, which thanks to Anthony Bourdain is now so popular you have to place a reservation -- not for seats but for a place in the oven for your pie.
Other versions of Chicago-style pizza include the stuffed pizza, a mid-1970s evolution of the deep dish, and thin crust -- with crust so thin it's crispy, unlike New York-style thin crust. (It is also cut into small squares, as opposed to gigantic slices.)
Of course, great Chicago food isn't limited to purely dogs and deep dishes. They also have fabulous Italian beef and a wealth of great Polish and Mexican restaurants. If all else fails, just go out and explore whatever establishments are nearby. And don't forget to book a >cheap Chicago hotel to save some extra cash and put it toward that amazing Chicago-style food.
See More!   Great Food to Eat When Visiting Chicago (That Aren't Pizza)
  flickr   //   benimoto   maveric2003