Oakland is a diverse city that has much to offer visitors. Unsure where to stay? If you seek excitement or action then head on up to Berkeley. However those in the mood to relax or being lured to the water might want to stay on the riverfront right in the heart of Oakland.
Hotel Durant
One of Oakland's best suburbs is Berkeley and right in the heart of it all is the green-certified Hotel Durant, near the University of California Berkeley. Offering stylish, comfortable rooms at an affordable price, there is no better place to stay than the Durant when planning to explore the city or campus. All the modern amenities are included, as well as other features to help busy individuals on the go, such as a large desk, ergonomic chair, and best of all free (and fast) wifi.
Hotel Shattuck Plaza
Those seeking affordable elegance need look no further than Hotel Shattuck Plaza in downtown Berkeley. Geared to both business and leisure travelers, everything about Shattuck Plaza is designed to help you make the most of your trip. 24-hour business center, fitness center, restaurant and lounge. Complimentary wifi. Luxurious furnishings, executive appliances and first class toiletries. The hardest part about staying here is leaving.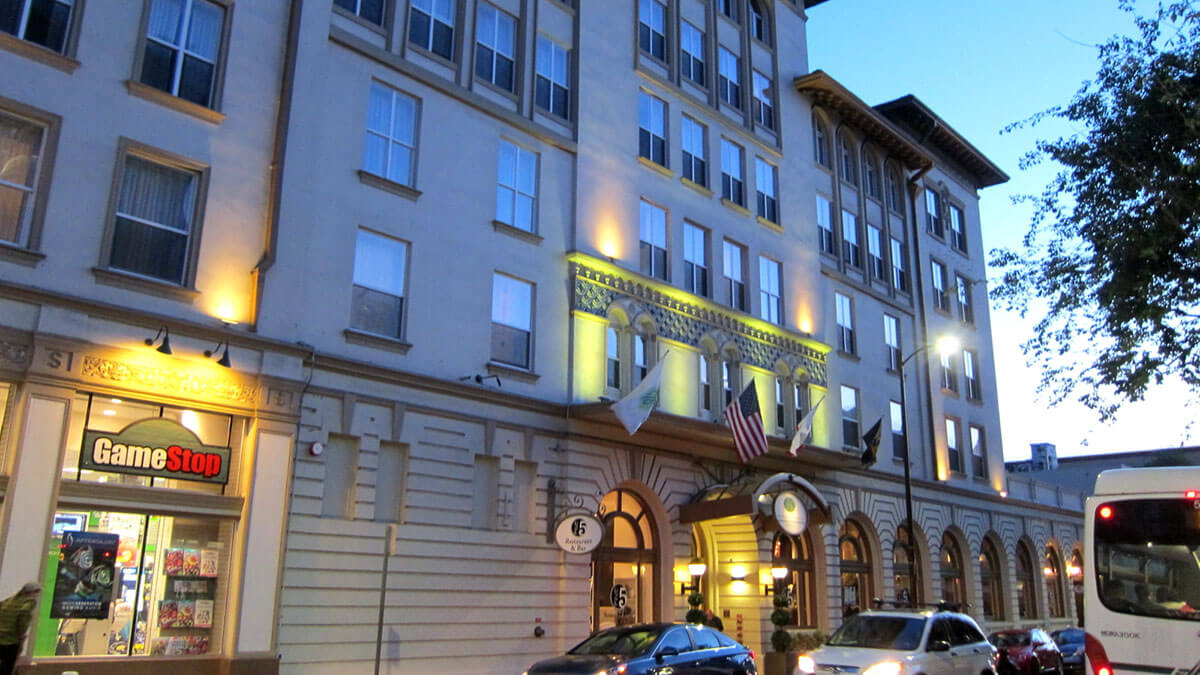 Executive Inn & Suites - Oakland Waterfront
If leaving home is hard then the Executive Inn & Suites - Oakland Waterfront is for you. Their rooms have been designed to make you feel more at home and include refrigerator, microwave, coffee maker, plush queen- and king-size beds, executive toiletries, daily newspaper service, and more. You can even choose city or water view. Free continental breakfast and wifi are also included. Located nearby are countless shopping and dining options, including Fisherman's Wharf and downtown Oakland.
Red Lion Hotel Oakland International Airport
When convenience is the name of the game then the hotel for you is the Red Lion Hotel Oakland International Airport. Make the most of a short business trip by doing everything from your hotel with Red Lion's business center, conference rooms and meeting areas. Plenty of shopping and dining options are located nearby. Plus you guests here can enjoy those few precious moments of freedom at the end of the day even more with plush beds, flat screen TVs, and spacious bathrooms. Some rooms even have balconies with an amazing view of the surrounding bay area.
Waterfront Hotel, a Joie de Vivre Boutique Hotel
White sand. Blue beaches. The two colors are prevalent throughout the design and furnishings of the nautical-themed Waterfront Hotel, a Joie de Vivre Boutique Hotel. Located next to the marina, the Waterfront Hotel is the jewel of Oakland. Spacious rooms with top of the line furnishings and appliances, even balconies! Impeccable service including free wine and cheese hour and complimentary downtown shuttle service. Heated outdoor pool, fitness center, sauna and valet service are just a few of the many additional perks of staying at the Waterfront Hotel.
Which of these hotels resonates most with your personality or travel style?