Palm Springs is a modern oasis in the desert of Southern California, a beckoning jewel for all those look for a hip yet laid-back retreat from the hustle and bustle of Los Angeles. The city is known for its breathtaking beauty, natural hot springs, stylish hotels, gorgeous golf courses, and amazing spas. Here is a look at some of the most affordable boutique hotels and resorts in Palm Springs.
Royal Sun Inn
Discreetly tucked away in a quiet residential neighborhood in downtown Palm Springs, Royal Sun Inn is the ideal hotel close to the action but away from the loud, busy streets. Their comfortable rooms come standard with a flat screen TV, private balcony or patio, free Wi-Fi and free breakfast. It's also a great place to stay for families because of the large outdoor pool and barbecue pits. The best part, however, is the price. Royal Sun Inn is one of the least expensive hotels, given its many amenities, making it the perfect choice for budget conscious travelers.
Riviera Resort & Spa
When it comes to affordable luxury, look no further than Riviera Resort & Spa. With rooms starting at just over $100 a night that look like something costing three times as much, this resort is the way to live the life of a rock star without breaking the bank. The property has funky, stylish decor, spacious rooms with amazing views of Palm Springs' natural beauty, marble bathrooms, world-class spa, modern fitness center, and two beautiful pools. It's even pet-friendly! What more could you want?
Saguaro Palm Springs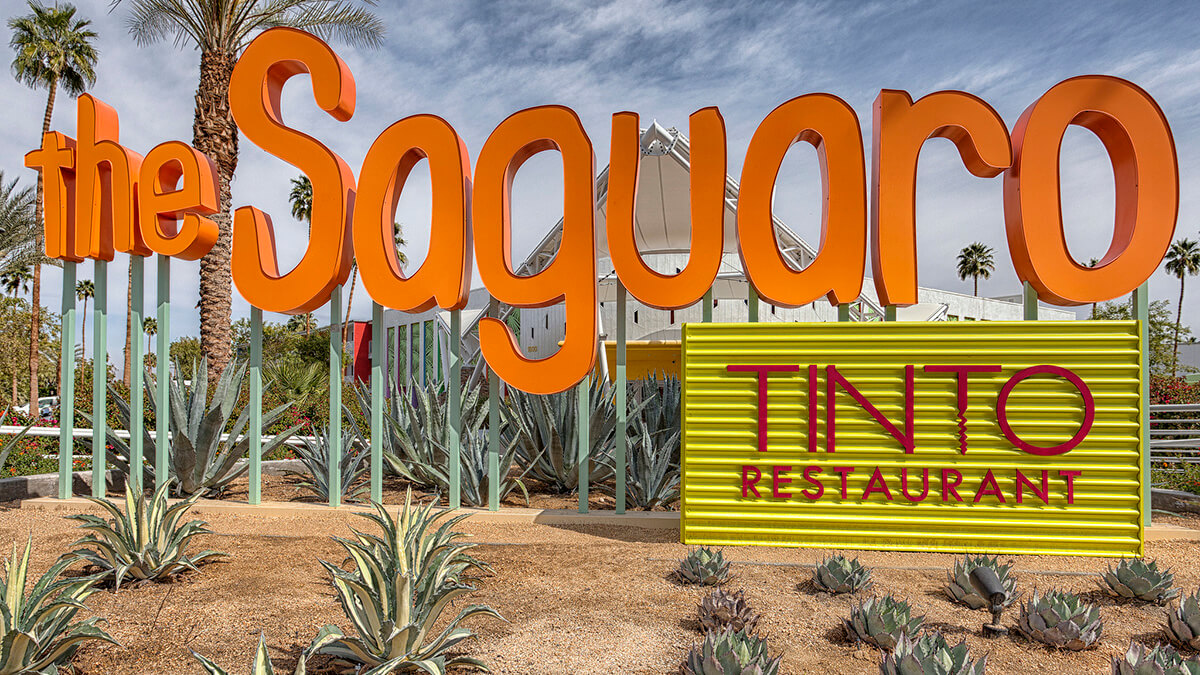 Photo by rheinitz via flickr
Colorful person? Then, Saguaro Palm Springs is the hotel for you! This rainbow-colored hotel is as vibrant on the inside as it seems on the outside. Colors combinations you've never imagined flow together in an impressive, stylish design that is a visual treat. Their gorgeous rooms come in a variety of combinations and offer either a mountain or a pool view, whichever you prefer. However, it is the property's two restaurants and Iron Chef Jose Garces that the hotel is most proud of. So if you want somewhere to stay that is a treat for all five senses, there is no better place to stay than Saguaro Palm Springs.
Caliente Tropics
Palm Springs ... or Polynesia? Why choose between the two when there's the unique fusion that is Caliente Tropics. Staying here is like stumbling into a lush tropical oasis at the edge of the desert. Sure, it may take you by surprise — but 5 minutes later you are calling it home and never want to leave. Guests can partake in less stereotypical Palm Springs activities such as shuffleboard, frisbee, or a backyard barbecue. All the other activities are still around, but for those who crave the laid back island lifestyle, this is the place.
Ivy Palm Resort & Spa
When location trumps all, stay at Ivy Palm Resort & Spa within walking distance of downtown. The property has a thick foliage cover that is a stark contrast to the boring desert themes that pervade most of the hotels in Palm Springs. Two pools, a spa, and fitness center allow guests to relax in this natural shade. The friendly staff will help coordinate all your around-town activities, and a free daily breakfast will give you the energy to start the day, so make sure to get out and have some fun!