With an official slogan of "Like No Place Else," Palm Springs sets the bar high for itself. Thankfully, this glistening jewel in the desert never disappoints. From hip hotspots to fine dining, with luxurious spas and world-class golfing, Palm Springs has something to cater to everyone. There are hotels in Palm Springs for all types of travelers.
For the Discerning Traveler
Won't sleep on anything with a thread count of less than 400? Well, then the Movie Colony Hotel is the place to be. This mid-century hotel has a long and rich history, with stars such as Dean Martin and Frank Sinatra having stayed here in the past. Movie Colony Hotel was designed by the renowned Swiss architect Albert Frey, father of the "desert minimalism" style. Opt for either a traditional room or poolside townhouse. Just keep in mind that all guests here must be 21 or over.
For the Romantic Getaway
Just the two of you looking to go somewhere for the weekend? Check out the Ingleside Inn. This boutique hotel has 30 lavish, sumptuously designed rooms that instantly make guests feel right at home. The hotel's meticulously manicured grounds and stunning interior design will leave you speechless. Weddings happen here on a regular basis, including several celebrity weddings over the years. Even Frank Sinatra and Barbara had their pre-wedding dinner at the Inn's famous restaurant, Melvyn's Restaurant.
For the Action Lover
Theatres and museums. Live music and art exhibits. World-class shopping and plenty of nightlife options. This is downtown Palm Springs. And for those who want a hotel just a couple of minutes' walk away from the action so they don't miss a beat, look no further than the Garden Vista Hotel. The 124 rooms and suites are spacious and come with a refrigerator, microwave, and flat screen television. Of course, with so many amazing things to do nearby, don't expect to spend much time in the room.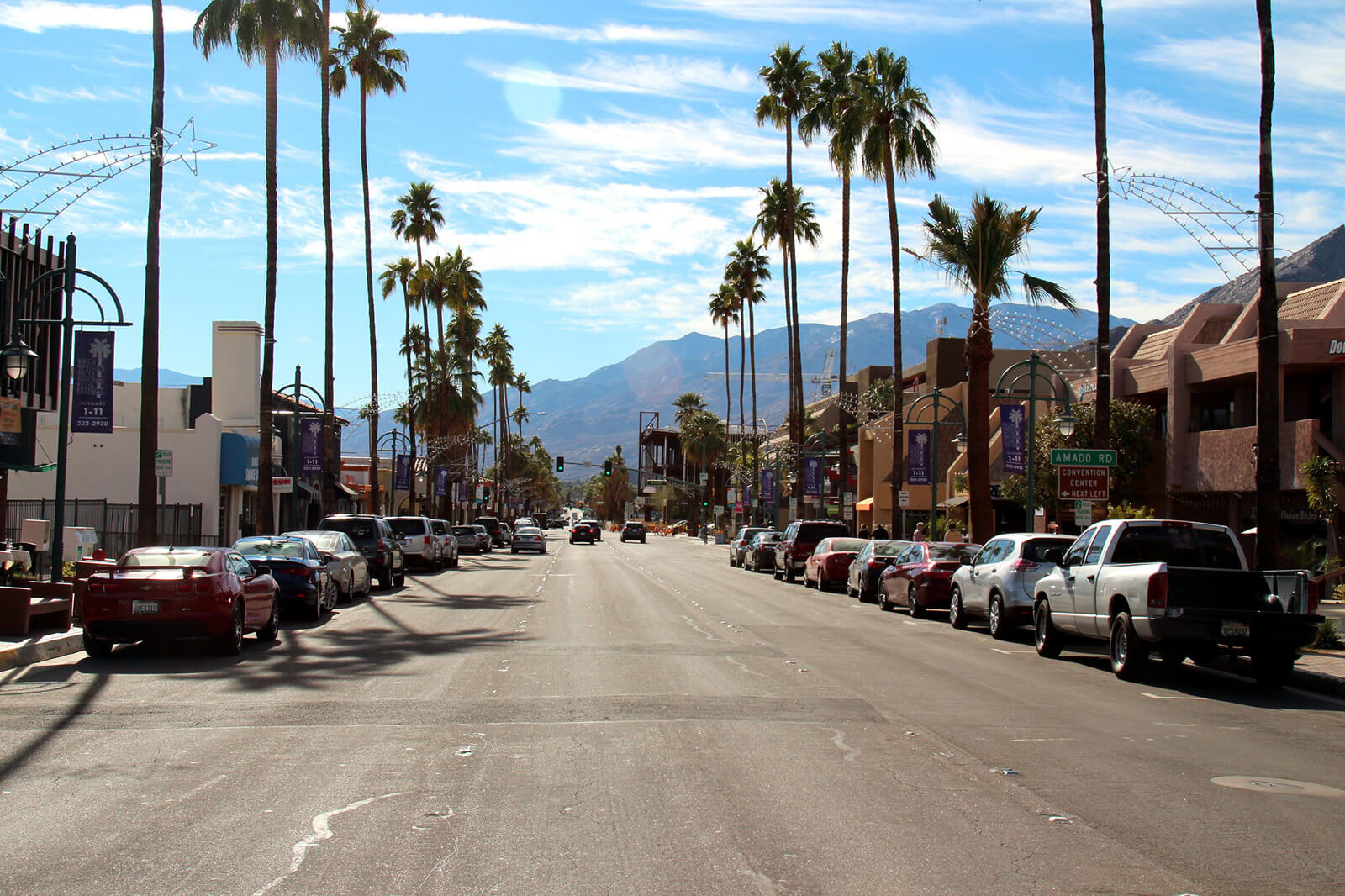 Downtown Palm Springs. Photo by Prayitno via flickr
For the "Less is More" Traveler
Not a fan of massive hotel chains or sprawling, expansive grounds? Like staying places where the employees actually remember your name? Then the place for you is the Avanti Hotel. With only 10 individually designed studios and suites, this hotel makes guests part of an exclusive minority. Although small, the Avanti is one of the nicest hotels in town. Rooms are stocked with modern furniture and appliances, including flat screen televisions and wi-fi. Private patios, kitchenettes (available in most but not all suites), and in-room massage options further make this little star shine.
For the Quiet, Peaceful Traveler
If all you want out of this vacation is to find a peaceful hotel that will cater to your every whim, head on over to the Andreas Hotel & Spa, a local landmark that is over 80 years old. Its plush and cozy suites come with exquisite marble and stone bathrooms, as well as all the modern amenities one needs to be comfortable. The rooms so quiet you would never imagine that you were located right in the heart of downtown. The hotel also has a spa, pool, jacuzzi, and large courtyard. Definitely a great place to unwind for a day or four!
  Featured photo via flickr // Chris Goldberg