Few cities in America are as photogenic as Sedona, Arizona. Here majestic red rocks rise up from the lush pine forests like sand castles carved by a race of giants who have long since disappeared. It is a photographer's dream destination, as well as an ideal place for destination weddings.
The next time you find yourself planning a trip to Sedona, soak up the scenery from one of these amazing hotels:
Sedona Real Inn & Suites
For a really different experience from all the other nearby properties, check out Sedona Real Inn & Suites. This boutique hotel is family owned and is a great way to support locals, instead of international hotel chains. In fact, the place feels so much like home, I loathe to even call it a hotel. They have a variety of room and suite options for both romantic couples getaways and family vacations, plus a swimming pool and playground. And yes, they are pet-friendly as well!
Ridge on Sedona Golf Resort
Coming to Sedona solely for the world-class golfing, but having a hard time finding a golf resort that is budget-friendly? Look no further than Ridge on Sedona Golf Resort in the gentle rolling slopes of southern Sedona. In addition to the 18-hole golf course, the Ridge on Sedona boasts a variety of amenities designed to maximize your outdoor activities, including secluded trails, mountainside hot tubs, heated outdoor pool, BBQ facilities, and picturesque picnic area.
Poco Diablo Resort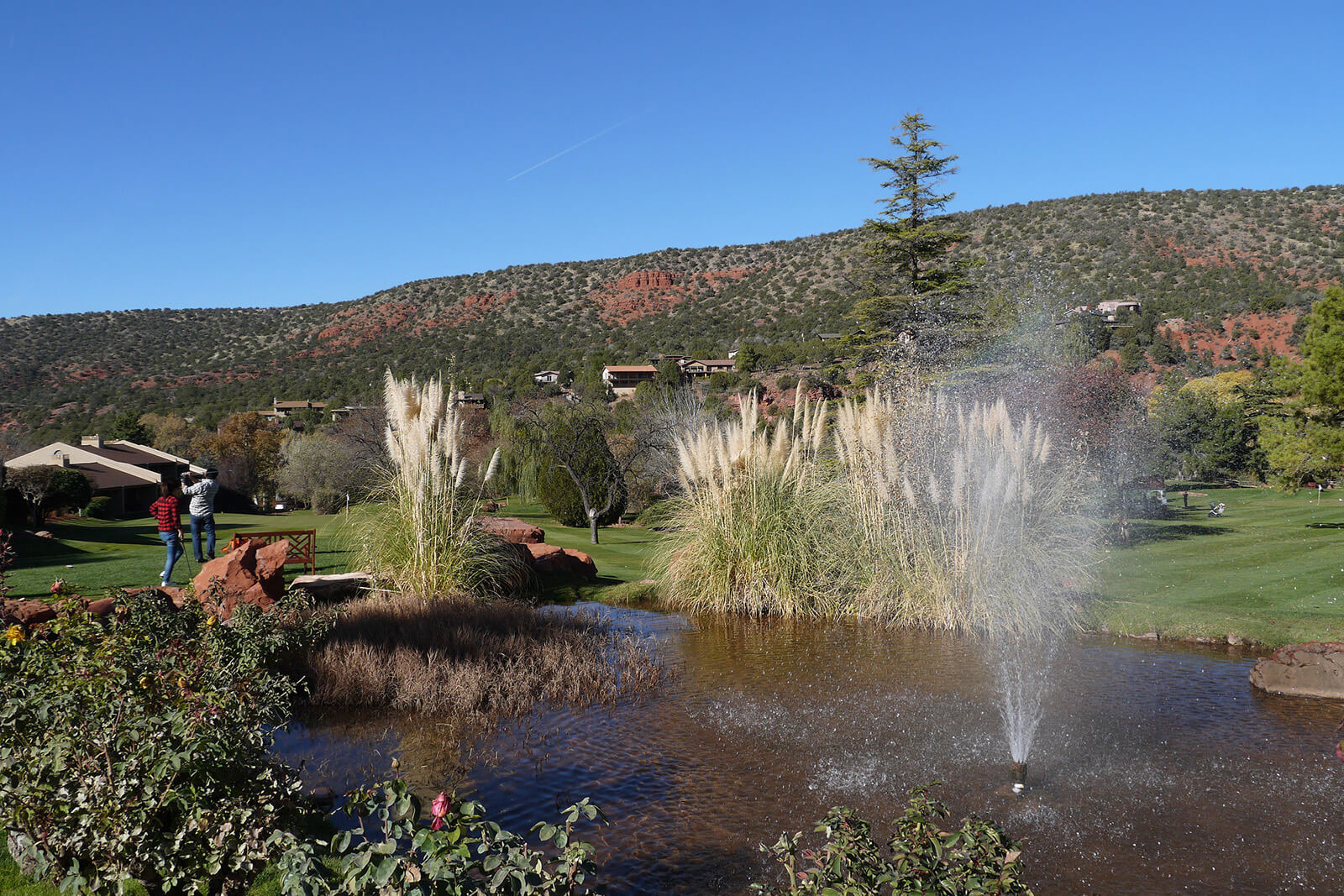 Nestled between Highway 179 and Oak Creek on the southern side of Sedona, Poco Diablo Resort is an ideal choice for anyone wanting to bask in the natural beauty of Sedona. With four tennis courts, an outdoor swimming pool and spa, heated for year-round enjoyment, nine-hole golf course spread across eight acres, and plenty of hiking trails located just a few minutes away from the resort, what more could you want?
Los Abrigados Resort & Spa
If it's romance among the red rocks that you are searching for, consider the amazing Los Abrigados Resort & Spa, a Diamond Resorts property. Diamond Resorts, with a proven record of world-class resorts, now has locations in over 30 countries around the world. Their expansive Sedona property has 22 acres of walking trails filled with fountains and benches, all situated against the breathtaking scenery of Sedona. After an afternoon stroll, the spa at Los Abrigados Resort is a soothing way to wind down. Plus they even have cottages available, which off a bit more privacy than their basic hotel rooms.
Sedona Rouge Hotel And Spa
The expanded Sedona Rouge Hotel And Spa in the western side of Sedona is a great option for families on vacation. Their spacious rooms are both kid- and pet-friendly, plus the concierge can help arrange babysitting services if parents need some time to themselves, or want to spend a couple of hours getting rejuvenated at the spa. Additional amenities such as a refrigerator, coffeemaker, and free DVD rental service make your family vacation that much easier.
  Featured photo by Don Graham via Flickr.